---
Sylvia Huang & Eliane Reyes
---
Biography Sylvia Huang & Eliane Reyes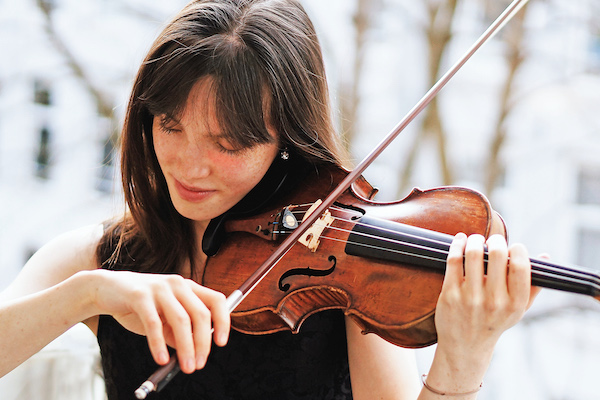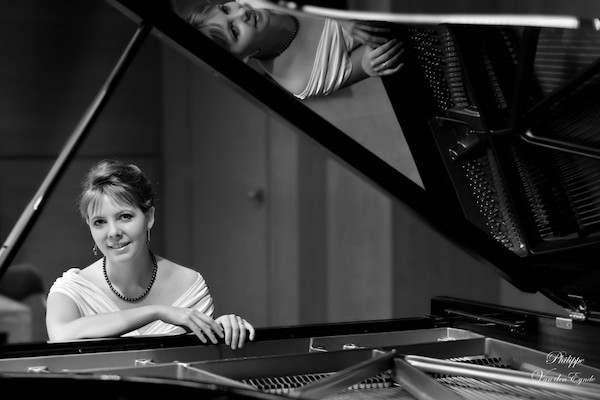 Sylvia Huang
Appreciated for her "true lyricism and her touching musicality, her simplicity and her sensitivity", and delivering a "wide color palette" (Le Soir), the Belgian violinist Sylvia Huang is described as a "moving and honest" musician with a "rich sound" (De Standaard). In 2019 she became laureate of the Queen Elisabeth International Competition and won the two audience prizes: the Musiq'3 Prize and the Canvas-Klara Prijs. She also received the Caecilia Prize of the Young Musician of the Year 2019 by the Union de la Presse Musicale Belge.
Sylvia has been a member of the Royal Concertgebouw Orchestra in Amsterdam since August 2014. As a passionate chamber musician, she founded the GoYa Quartet with three of her RCO colleagues. After having won the prestigious "Prix de Salon 2015" awarded by the business network of the Royal Concertgebouw Orchestra, the GoYa Quartet Amsterdam was able to make recordings of two live performances of all Brahms and Schumann string quartets.
She made her debut with the Royal Concertgebouw Orchestra in February 2021 playing Mozart Violin Concerto K.218 with Andrew Manze and has collaborated with many other orchestras such as the Belgian National Orchestra, the Orchestre Royal de Chambre de Wallonie, the Bad Reichenhall Philharmoniker, in halls such as the Palais des Beaux-Arts and Flagey in Brussels, the Vlaamse Opera in Gent, deSingel in Antwerp and the Concertgebouw in Amsterdam. She took part in several international festivals including B-Classic Festival van Vlaanderen, Les Echappées Musicales du Médoc, Festival Musiq'3, Klara in deSingel, Collegium Vocale Crete Senesi and the Festivals de Wallonie.
Born in 1994, Sylvia had her first violin lessons with her father and continued her studies at the Académie des Arts de la Ville de Bruxelles, and later on with Alexei Moshkov and Liviu Prunaru. She won first prize at the Belfius Classics National Musical Competition in 2004 and at the Lions European Musical Competition in 2008. She was a member of the European Union Youth Orchestra from 2009 to 2010 before joining the second violin section of the Belgian National Orchestra in September 2012. She was promoted to the position of co-principal violinist in 2013 before joining the Royal Concertgebouw Orchestra a year later.
She plays on a Carlo Ferdinando Landolfi from 1751, on loan from the RCO Foundation.
Eliane Reyes
pianist prodigy, began performing at a very early age.
In 1988, she was an award winner of the Cziffra Foundation (Senlis, France) and the same year she performed at the Tibor Varga Festival (Sion, Switzerland) and also with the Royal Concertgebouw Orchestra in Amsterdam, conducted by Sergiu Comissiona.
First trained by her mother, she then went proceeded to study at the Royal Conservatory of Brussels followed by the Queen Elisabeth Music Chapel in Jean-Claude Vanden Eynden's class. Eliane promoted on to the Hochschule der Künste in Berlin, to the Mozarteum in Salzburg with Hans Leygraf, the Lemmensinstituut with Alan Weiss and there after to the Conservatoire National Supérieur de Musique in Paris under the aegis of Michel Beroff, Brigitte Engerer, Hans Leygraf and Jacques Rouvier. Ensuing her studies, she was appointed professor of complementary piano at the Conservatoire National Supérieur de Musique in Paris.
In the spectrum of international competitions, Eliane has won innumerable awards including 1st prize in Ettlingen, Germany and 1st prize at the Cervantes International Piano Competition in Cuba. Finalist at the Montreal International Musical Competition, the Clara Schumann International Piano Competition in Düsseldorf, where she was equally rewarded for chamber music, and at the Maria Canals International Music Competition, to mention but a few. Eliane Reyes devotes herself to a career as a recitalist, soloist and chamber musician to the unanimous acclaim of the international press and audiences.
Through her numerous performances, she has attained the absolute support of the Rheinold Blüthner, Nany Philippart, Spes, Solti and Vocatio Foundations. Amongst artists such as Martha Argerich or Vladimir Ashkenazy, Eliane has had the opportunity to be invited to give recitals and to perform alongside Augustin Dumay, Ivry Gitlis, Misha Maisky and José van Dam.
Her discography consists of works by Nicolas Bacri, F. Chopin, C. Debussy, Benjamin Godard, F. Liszt, Michel Lysight, D. Milhaud, M. Ravel, A. Tansman, as a consequence she obtained many awards such as "Pianiste Maestro" by the French magazine Pianiste, "Ring" by Classic Info, "Joker" by Crescendo Magazine and a "Supersonic" award from Pizzicat and notably from ResMusica, where she was awarded "La Clef d'or" for her solo recording of the 24 Intermezzi by A. Tansman. Eliane Reyes was nominated three times for the "International Classical Music Awards".
Eliane Reyes is currently Professor of piano at the Royal Conservatory of Brussels.