---
argovia philharmonic & Douglas Bostock
---
Biography argovia philharmonic & Douglas Bostock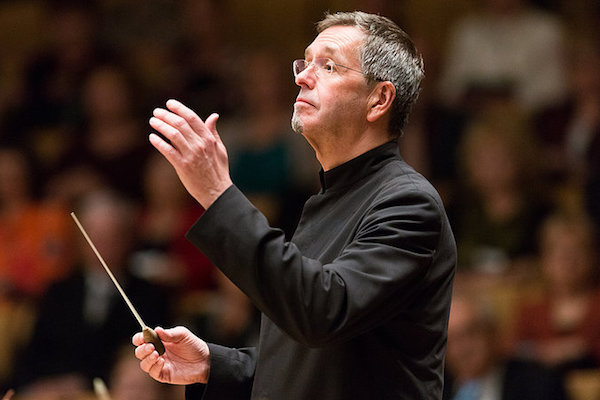 argovia philharmonic
Der 1963 als "Aargauer Symphonie Orchester" gegründete Schweizer Klangkörper ist längst zu einem national etablierten Berufsorchester herangewachsen. Seit der Saison 2013/14 als argovia philharmonic agierend, prägt das Orchester nicht nur die eigene Heimat musikalisch mit einem breiten Repertoire. Neben den eigenen Konzertreihen gastiert das argovia philharmonic auch regelmässig auswärts, unter anderem in der Tonhalle Zürich. Ebenfalls ist es Hausorchester bei der alle drei Jahre stattfindenden «Oper Schloss Hallwyl». In der Schweizer Orchesterlandschaft hat sich das argovia philharmonic durch seine einzigartige Struktur seinen eigenen Platz erspielt. Durch die projektbezogene Arbeit bei gleichzeitig fester Besetzung hebt sich das argovia philharmonic von den ständigen Berufsorchestern ab. Es steht in seiner Struktur wie kein anderes Orchester für die Schweizer Orchesterlandschaft, die geprägt ist von einer Vielzahl an freischaffenden Orchestermusikern und projektorientiertem Arbeiten. Regelmässig konzertiert das argovia philharmonic mit international bekannten Solisten wie Vadim Repin, Olga Scheps, Stella Doufexis, Sol Gabetta, Raphael Oleg, Andreas Staier oder Bernd Glemser, aber auch mit den bedeutendsten Schweizer Künstlern wie Oliver Schnyder, Patrick Demenga oder Christian Poltéra. Zudem lädt es immer wieder aufstrebende Solisten wie Alexander Sitkovetsky, Jinsang Lee, Sofia Jaffé, Sergey Koudriakov, Christina Daletska oder Valentin Johannes Gloor ein. Seit 2001 leitet der britische Dirigent Douglas Bostock das Orchester als Chefdirigent. Dank dieser fruchtbaren Zusammenarbeit und der daraus entstandenen hohen künstlerischen Qualität hat sich das argovia philharmonic erfolgreich einen festen Platz in der Schweizer Musiklandschaft erspielt. Zum fünfzigsten Jubiläum des Orchesters erschien bei Musiques Suisses eine in der nationalen wie internationalen Presse viel gelobte CD mit Werken der Aargauer Komponisten Hermann Suter und Werner Wehrli. Seit 2013 arbeitet das argovia philharmonic mit dem Label Coviello Classic zusammen.
Douglas Bostock
Der britische Dirigent Douglas Bostock ist seit 2001 Chefdirigent des argovia philharmonic in der Schweiz – www.argoviaphil.ch. Weitere Stationen seiner Laufbahn sind: Karlsbader Symphoniker, CZ (Chefdirigent / Künstlerischer Leiter 1991-1998); Tschechische Kammerphilharmonie, CZ (Ständiger Gastdirigent 1993-2011); Münchner Symphoniker, D (Erster Gastdirigent 2002-2008); Tokyo Kosei Wind Orchestra, J (Chefdirigent 2001-2006 / Erster Gastdirigent 2006-2010); Schlossoper Hallwyl, CH (Musikalischer Leiter 2003-). Sein Repertoire umfasst ein breites Spektrum von Barock bis Moderne, einschliesslich aller Standardwerke, sowie eine Vielzahl selten aufgeführter Werke, zeitgenössische Musik und zahlreiche Opern. Douglas Bostock dirigiert führende Orchester in den meisten europäischen Ländern, Nord- und Mittelamerika und Asien. In Grossbritannien gastierte Douglas Bostock u.a. mit den BBC Orchestern, dem Royal Philharmonic, dem Royal Liverpool Philharmonic, dem Scottish National Orchestra und dem London Philharmonic. Zu seinen Gastdirigaten in Europa zählen u.a. die Münchner Symphoniker, die Orchester in Jena, Erfurt Halle, Århus, Ålborg, Odense, Brno, Bratislava, die Norddeutsche Philharmonie, die Südwestdeutsche Philharmonie, das Stuttgarter Kammerorchester, das Radio Symphonieorchester Prag, die Prager Symphoniker u.v.m. Auf dem amerikanischen Kontinent sind es u.a. National Orchestra Washington, die Orchester in Chicago, Kansas, Colorado, Calgary und Mexiko. In Japan tritt Douglas Bostock u.a. mit dem New Japan Philharmonic, dem Nagoya Philharmonic, dem Kyoto Symphony, dem Japan Century Orchestra, dem Orchestra Ensemble Kanazawa, Gunma Symphony und der Geidai Philharmonia auf. Douglas Bostock ist ausserdem in den letzten Jahren zunehmend auch als Operndirigent tätig. Beinahe 100 CD-Aufnahmen dokumentieren das künstlerische Profil und vielseitige Repertoire von Douglas Bostock. Seine CD-Aufnahmen, z.B. der kompletten Orchesterwerke Carl Nielsens und der Symphonien Robert Schumanns, sowie eine grosse Reihe mit britischer Musik und viele Ersteinspielungen wenig bekannter Werke finden international hohe Anerkennung und geniessen grosse Beliebtheit.Douglas Bostock ist ein geschätzter Pädagoge, der sich auch der Arbeit mit jungen Musikern widmet. Er ist an der Tokyo National University of the Arts als Gastprofessor in den Dirigier- und Opernfakultäten und auch an anderen Musikuniversitäten in verschiedenen Ländern als Gast tätig. Darüberhinaus leitet er regelmässig Kurse und Meisterklassen für junge Dirigenten in mehreren Ländern.