---
Margaret Cornils Luke, Philharmonic Chamber Orchestra of London & Chris Petrie
---
Biography Margaret Cornils Luke, Philharmonic Chamber Orchestra of London & Chris Petrie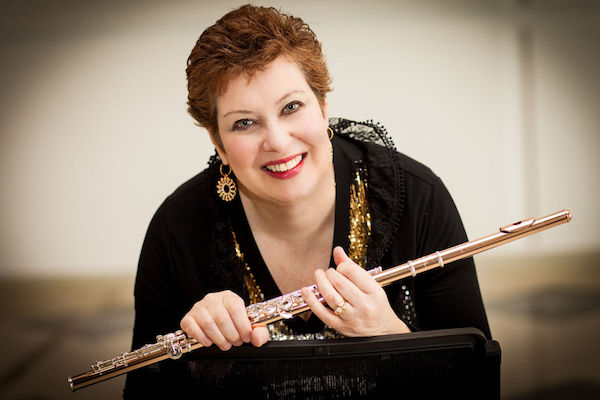 Margaret Cornils Luke
Luke started her musical studies with piano at the age of 5 and then followed with the flute two years later. She was awarded several educational awards to study and received her master's degree in Flute Performance from Northern Illinois University in DeKalb, Illinois.
She began doctoral studies at the University of Minnesota in Minneapolis, but she soon put her studies on hold in order to concertize and teach at the university. She has also taught piano at the university level along with being a professional piano accompanist.
Margaret is an active composer and her recorded works are widely published. Margaret Cornils Luke has performed alongside such classical music greats as Isaac Stern and Mstislav Rostropovich, and has also soloed with contemporary personalities including Garrison Keillor and Anne Murray. She has been active in theater direction as well as church sanctuaries. She has studied flute privately with Geoffrey Gilbert (teacher to Galway, Bennett, and Wye), Charles Delaney, Mary Louis Poor, Peter Middleton, Gale Coffee, Tadeu Coelho, and Jacob Berg.
Margaret Cornils Luke has over 35 years of teaching experience from beginning level to college and professional level. She has taught at the following colleges; Clarke University, Loras College, University of Wisconsin/Platteville, Hamline University, College of St. Catherine's and Concordia College. She has taught at the following high schools; Glenbard South, West Chicago, Wabonsee Valley, Woodstock, Sterling and Galena which are all located in Illinois. She has taught privately and performed master classes all across the country.
Margaret has performed, judged and her compositions have been performed at several National Flute Association National Conventions. She has adjudicated competitions from All State to International Young Artist Competition. She has hosted and organized State Flute Festivals. Margaret Cornils Luke is a National Arts Associate with Sigma Alpha Iota.
2015 will mark the seventh solo recital appearance at Carnegie Hall for flutist Margaret Cornils Luke in collaboration with Legato Arts, LLC. Margaret has brought to stage flute standards from Syrinx by Debussy to the Poulenc Sonata. She has scheduled newly-commissioned work as well, ranging from Michael Gilbertson's Sonata to Gary Schocker's Morning Noon Night. She has premiered new concertos and has in turn been commissioned to compose works for all instruments and voices. She has been heard live on national public radio and been featured on national public television.
Chris Petrie
Chris Petrie's conducting encompasses a broad artistic palette, with current interests including the music of Enescu, Mendelssohn, Elgar, contemporary works, and the Parisian Belle Epoque. Chris has conducted orchestras across Europe including the Vienna Tonkuenstler Orchestra, Lithuanian State Symphony Orchestra, Philharmonie Horst (Germany), Oltenia Filarmonica (Romania), University College of London Chamber Orchestra and Monmouth Festival Ensemble (Wales). Soloists with whom he has worked with include pianists Leslie Howard and Tom Poster, violinists Andrey Baranov and Remus Azoitei, violist Sarah-Jane Bradley, cellist Filip Papa, and many others.
Chris is currently the Artistic Director and Principal Conductor of the Philharmonic Chamber Orchestra of London. Recent projects with PCOL include a major recording project for Centaur Records (USA) and their concert series in Cadogan Hall, London.
Chris has also worked extensively as a composer (please visit the composer page), has recorded for Sony Records (France), Centaur Records (USA) and Signum Classics (UK), had music released on two CDs and two DVDs, and has been broadcast on BBC Radio 3, S4C TV (Wales) and TVR (Romania). He also regularly works with youth groups on projects of all scales and has won both the 'Outstanding' and 'Innovation' awards at Music For Youth's National Festival, and has had several premieres in the Royal Albert Hall.
Chris studied at the Royal Welsh College of Music and Drama and the Royal Academy of Music, London. His conducting tutors have included Michael Rafferty and Adrian Partington, with further tuition from Christian Kluttig and Colin Metters.