---
Cyrielle Golin & Antoine Mourlas
---
Biography Cyrielle Golin & Antoine Mourlas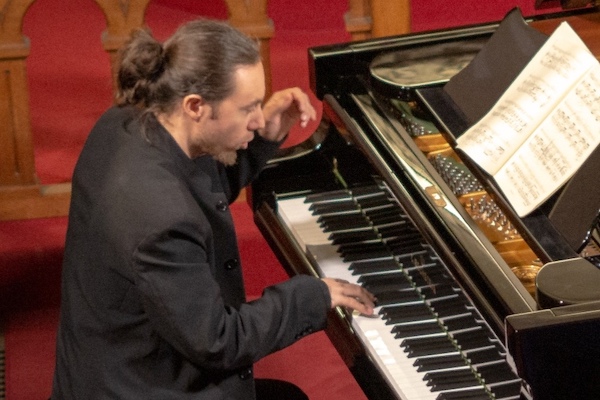 Cyrielle Golin
A cellist born in Metz, Cyrielle Golin has been invited, since the beginning of her career, to perform as a soloist in numerous halls most notably to play the concertos of Robert Schumann, Joseph Haydn, Camille Saint-Saens, Carl Philipp Emanuel Bach and the double concerto by Johannes Brahms.
The search for the fusion linked to the very nature of chamber music and the necessary asceticism which the discipline requires has lead her to play at the Konzerthaus Berlin, Schloß Nymphenburg (Munich), Academy of Athens, Palazzo Albrizzi (Venise) and for the festivals Format Raisins, Festival Flam', Le chant de la rive, Les cordes en ballade, Les Musicales de Ristolas, Les Musicales de Bandol, Musiques en voûtes, Musique à Vars, Moments musicaux de Chagny, Le Mai Musical en Pays Saujonnais, Les Mercredis Musicaux de Saint-Pierre-en-Vaux...She also participated, in 2019, in the radio program 'Générations France Musique', presented by Clément Rochefort during the Aix-en- Provence Festival and for the Musikszene on Deutschlandfunk radio in Berlin on the occasion of the rediscovery of works by Hanning Schröder.
In 2015, Cyrielle Golin founded the Quatuor Akos, a string quartet whose sound aesthetic leans towards a historical interpretation, thanks to the use of classical or modern bows, depending on the repertoire in question. In step with this research, the quartet were chosen to participate in the exhibition L'Archet Révolutionnaire in London in 2015, that of Saarbrücken in 2018 aswell as the bow symposium at Saint-Romans-lès-Melle in 2016.
Her attraction to the stage has allowed Cyrielle Golin to collaborate with the choreographer Alexander Ekman for the ballet Cacti, performed at the Saarländisches Staatstheater, and at the Heilbronn Theatre during the 2015-16 season. She conceived the musical content and performed on stage for the play Amadeus, by Peter Schaeffer, staged by Paul-Emile Fourny at the l'Opéra-Théâtre de Metz Métropole and at the Théâtre de la Manufacture de Nancy in 2018.
Cyrielle Golin studied with Jean Adolphe at the CRR in Metz, with Philippe Muller at the CRD in Aulnay-sous-Bois, with the Quatuor Ysaÿe at the CRR in Paris, then joined the Hochschule für Musik Saar taking lessons with Gustav Rivinius, where she gained her masters degree with flying colours. She has also benefitted from the coaching of artists such as Luc-Marie Aguera, Jérôme Akoka, Belcea Quartet, Chiaroscuro Quartet, Quatuor Danel, Quatuor Debussy, Quatuor Mosaïques... during her studies, she was laureate of a number of international competitions; Concours international de
violoncelle de Woluwe-Saint-Pierre, FNAPEC, Bellan... but also won the 3rd prize and the Bärenreiter Prize at the 13th International Mozart Competition (Mozarteum Salzburg) with the Quatuor Akos, who will release in 2021 a double disc dedicated to the six quartets of Joseph Haydn's Opus 76, with the NoMadMusic label. Cyrielle is also a laureate of the Roi Baudoin Foundation - Fravanni Fund and supported by Musique à Flaine since august 2014.
With a great desire to valorise chamber music by promoting the encounter between artists from Metz and from abroad, she is dedicated to conveying the values of musical communication to young musicians; it was with this reason in mind that Cyrielle Golin created and became the artistic director of the Festival de Musique de Chambre de Metz in 2017.
Antoine Mourlas
"There is, in the playing ofAntoine Mourlas, a sort ofbenevolence[...]it's his feline side: capable ofpower, but not ofbrutality or harshness. What marks us in his interpretation[...]is the fluidity ofhis movements, aided by a large but mastered legato. Antoine Mourlas shows himselfto be attentive, subtle and inspired[...]before being a pianist, he is above all a musician, and this is indeed the crux ofthe matter." (S. Rieger, RFI)
A pianist of french-greek origin, Antoine Mourlas has performed regularly since 2004 at many different festivals such as the Festival Debussy, Festival Chopin, Festival International de Besançon, and of Wesserling, Saison Internationale Agimus, Festival Au Fil de l'Art de Walhain, Festival Piano à Mayenne, Festival Racinotes, Festival Européen Jeunes Talents, Festival Format Raisins, Festival Musée en musique de Grenoble, Festival de Villers-sur-Mer, Festival Lyrique Catalan...and his interpretations are frequently remarked upon, as much in the written press as on the radio, notably France Musique.
Captivated by the richness of timbres and by the sound palette which the use of two pianos and four hands produces, Antoine Mourlas founded in 2009 the Duo Eclypse, a duo which has now played in numerous countries and for which he is joined by the pianist M.Gentet. In addition, he explores his interest for the art of melody and lied, performing regularly with the soprano V.Jung.
Chamber music and new music play a large part in Antoine Moulas' career as a pianist. He works regularly with a number of contemporary composers (P. Hersant, J.P. Holstein, N. Bacri...), and has recorded the Sonata Giocosa by M.Favrot with the pianist E.Meuret as well as a number of works by M.Sebaoun which are dedicated to him. His discography contains notably a CD dedicated to french music for four hands on which he recorded the world premiere of the "Six Mélodies" Op.39 by F.Schmitt with his own transcription; an undertaking which was greatly praised by the musicologist P.Nones and by the american press, and another recording comprising the Shostakovich quintet with the Toldrà quartet as well as two discs for the labels Hit Diffusion and M&O Music.
It was after successful and stimulating studies at the CRR in Bayonne (obtaining a DEM in violin in parallel) and in Boulogne Billancourt that Antoine Mourlas graduated with a first class degree from the CNSM in Paris, in piano as well as chamber music, becoming a laureate of nearly a dozen International competitions ( San Sebastian, Epinal, Padua, FNAPEC, CMF, GCIP... ).
Supported by prestigious performers such as B. Berezovsky, F.R. Duchâble, J. Rouvier, T. Paraskivesco, L. Cabasso or indeed O. Chauzu, he was able to profit, throughout four years from the precious coaching of well known chamber musicians such as the Berg, Hagen, Artemis, LaSalle, Cleveland and Ludwig quartets, thanks to the Centre Européen ProQuartet, and completed post-graduate studies in sonata playing at the CRR in Paris with the cellist C-L.Demettre, coached by the Ysaÿe Quartet.
In order to bring music to youth and to render it more accessible, Antoine Mourlas works regularly with other artists in order to create innovative productions. With the actress A.Delhommeau, he has produced unique shows, revisiting famous tales such as "Peter and the Wolf", "Alice in wonderland" and with the painter C.Gaucher, brushes and music come together to make a piece of artwork, created in the moment.
In addition, Antoine Mourlas has been Artistic Director, since 2016, of the "Piano à l'Affiche" season of concerts in the Haute-Marne, and has been a professor of piano at the CRD in Nevers since 2011. He also participates in musical academies, as a tutor for the students of the ESM Bourgogne and is regularly invited to be a member of jury panels for competitions.