---
Album info
Album including Album cover
Sergei Prokofiev (1891-1953): Violin Sonata in D Major, Op. 115:

1

Violin Sonata in D Major, Op. 115: I. Moderato

05:02

2

Violin Sonata in D Major, Op. 115: II. Theme & Variations

03:24

3

Violin Sonata in D Major, Op. 115: III. Con brio - Allegro precipitato - Tempo I - Allegro precipitato

03:53

Timo Andres (1985- ): Violin Sonata:

4

Violin Sonata: I. Moderato

06:45

5

Violin Sonata: II. Moderato

03:59

6

Violin Sonata: III. Allegro scherzando

05:14

Libby Larsen (1950- ):

7

Blue Piece

02:49

Judith Lang Zaimont (1945- ):

8

Grand Tarantella

05:41

Rain Worthington:

9

Jilted Tango

05:21

Michael Daugherty (1954- ):

10

Viva

02:46

Benjamin Ellin: 3 States at Play:

11

3 States at Play: I. Molto furioso

04:33

12

3 States at Play: II. Molto cantabile

02:46

13

3 States at Play: III. Full of Spirit

02:39

Total Runtime

54:52
Info for Parts to Play

On PARTS TO PLAY, critically acclaimed violinist Moonkyung Lee turns from the symphonic environment of the critically lauded label debut, TCHAIKOVSKY, on which she performed with the London Symphony Orchestra, to a more intimate setting, with only pianist Martha Locker as her partner on a selection of works that include both stunning solo performances and intricate yet simple duets.
Choosing to include Prokofiev's "Sonata for Solo Violin" amid compositions from six contemporary composers who collectively represent three decades of works is indicative of Lee's ability to tease out the subtle nuances of every piece she performs. The three-movement suite moves from the simplicity of Moderato's Classical sonata format through the more lyrically, introverted Andante Dolce to the clever finale, Con Brio. Similarly, her transit through Benjamin Ellin's composition for solo violin, "Three States at Play," is a nuanced journey through three movements, in which the more serene second movement is bookended by two outer movements that are quite rhythmically active.
When performing duets with Locker, such as on Rain Worthington's "Jilted Tango," Lee's violin seamlessly integrates with the piano to create an atmosphere both spirited and poignant, capturing the "push and pull in a dance of love" implied by its title. Another sort of dance entirely is captured on the duo's performance of the vibrant and upbeat "Grand Tartanella."
Moonkyung Lee's career includes numerous accolades, awards and scholarships including the Yale Chamber Music Celebration, and an NYU/Steinhardt Doctoral Fellowship for Doctoral Studies, of which she was the first ever classical string performer recipient. Her extensive array of performances, both in Europe in the US, include collaborations with many eminent ensembles, conductors and performers. Among the venues at which she has performed are Lincoln Center. the Berlin Konzerthaus, Dvorak and Smetana Halls in Prague, and the Seoul Arts Center Recital Hall. Her PARMA label debut, TCHAIKOVSKY WORKS FOR VIOLIN AND ORCHESTRA, won the silver medal at the 2017 Global Music Awards and was chosen by Spotify for their Classical New Releases playlist.
Pianist Martha Locker performs as both a soloist and chamber musician in both the United States and abroad. As a soloist she has performed with the Pittsburg Symphony Orchestra and the New Juilliard Ensemble; as a chamber musician and performer of contemporary music she performs throughout New York at such venues as Symphony Space and New York University. She has been a fellow of the Tanglewood Music Center and has been a guest artist at the Kyoto International Music Festival and the New York University Summer String Seminar, among many others.
"A violinist to follow" (Patric Imbaud, Res Musica)
Moonkyung Lee, violin
Martha Locker, piano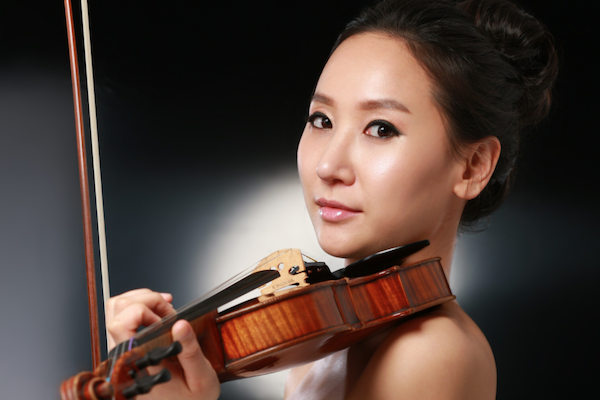 Moonkyung Lee
Acclaimed violinist Moonkyung Lee performs extensively in Europe, the United States, and Korea and has collaborated with many eminent ensembles, conductors, and performers. Some highlights include: the Cordoba Symphony Orchestra under the baton of Maestro Maxim Shostakovich; the Beethoven Triple Concerto with Mischa Maisky, cello, with the Bohuslav Martinu Philharmonic Orchestra; and the Vienna Symphony Orchestra celebrating the 250th Anniversary of the Birth of the Austrian composer Ignaz Pleyel. Ms. Lee has also appeared as a soloist with the Albany Symphony Orchestra, French Chamber Orchestra, Camerata Europaea, Zabrze Philharmonic Orchestra, North Czech Philharmonic Orchestra, Hradec Kralove Philharmonic Orchestra, Eurorchestra da Camera di Bari, Carlsbad Symphony Orchestra, Russia Ulan-Ude Opera and Ballet Theater Symphony Orchestra, New York University Symphony Orchestra, Seoul Philharmonic Orchestra, Busan Philharmonic Orchestra, Gyeongsangbuk-do Provincial Symphony Orchestra, Yongin Philharmonic Orchestra, Euro-Asian Philharmonic Orchestra, Korea Symphony Orchestra, the Mostly Philharmonic Orchestra, and Seoul Pops Orchestra. The venues in which Ms. Lee has performed include: the Berlin Konzerthaus, the Großer Musikvereinssaal in Vienna, Dvorak and Smetana Halls in Prague, and the Seoul Arts Center Concert Hall.
Ms. Lee is the recipient of many awards and scholarships including the Luigi Zanuccoli International Competition, the Padova International Competition, the New York University Concerto Competition, the Yale Chamber Music Celebration, and an NYU/Steinhardt Doctoral Fellowship for Ph.D. Studies (of which, she was the first ever classical string performer recipient). Ms. Lee frequently gives recitals in New York, Boston, and Seoul, making her New York debut at the Merkin Concert Hall at the Kaufman Center. Her two recitals in Seoul in 2015 were sponsored by the Arts Council Korea. She has been often featured as a solo performer on Korea's national television, KBS in its Classic Odyssey solely devoted to classical music. She has also participated in many music festivals such as the International Summer Academy Mozarteum in Salzburg, Austria and the Banff Center for the Arts in Banff, Canada.
Her debut recording of Tchaikovsky Violin Concerto released on Navona Records with the London Symphony Orchestra and double-Grammy winning engineer Steve Price received enthusiastic praise from audiences and critics. According to the Whole Note, "Certainly the performances seem to get closer to the heart of the music," and Gramophone applauded for her "satisfying mahogany tone" and the finale of the Tchaikovsky Violin Concerto which "really dances."
Her album 'Tchaikovsky Works for Violin and Orchestra' won the silver medal from the 2017 Global Music awards, and Canada's CFBX FM selected it as their Top 5 Classical Albums. Also, chosen by Spotify for their Classical New Releases playlist, "Sérénade mélancolique, Op. 26" has gained over 50,000 streams.
Also an active scholar and pedagogue, Ms. Lee wrote an article 'The power of legato practice for string players' for the Strad magazine, and she has been on the faculty of the New York University and is currently adjunct professor of violin at the University of Seoul.
Ms. Lee, who received her Bachelor's of Music degree from Boston's New England Conservatory where she graduated on scholarship with honors and Master's of Music degree from Yale University also on scholarship earned her Ph.D. from New York University. She plays an 1845 Vuillaume violin previously owned by Jack Benny.

This album contains no booklet.