---
Album info
Album including Album cover Booklet (PDF)
Jacek Różycki (1635 - 1703):

1

Różycki: Dixit Dominus

03:26

2

Różycki: Confitebor

04:14

3

Różycki: Exultemus Omnes

03:29

4

Różycki: Fidelis Servus et Prudens

04:49

5

Różycki: Aeterna Christi Munera I (Version for Mixed Voices & Chamber Ensemble)

06:20

6

Różycki: Ave Sanctissima Maria

07:14

7

Różycki: Iste Sanctus

06:29

8

Różycki: Magnificat

03:57

9

Różycki: Aeterna Christi Munera II

02:29

10

Różycki: Aurora Lucis Rutilat

03:34

11

Różycki: Chorus Novae Jerusalem

04:19

12

Różycki: Exultet Orbis Gaudiis

02:35

13

Różycki: Gaude Caelestis Civitas

02:23

14

Różycki: Salve Decus Humani Generis

04:03

15

Różycki: Laudes ad Laudes Iungite

03:03

16

Różycki: Verbum Supernum Prodiens

03:56

17

Różycki: Regina Terrae, Regina Caeli I

03:00

18

Różycki: O Maria Stella Maris

05:14

19

Różycki: Omni Die Dic Mariae

03:47

20

Różycki: Regina Terrae, Regina Caeli II

01:44

21

Różycki: Salvatoris Mater Pia

04:37

22

Różycki: Aeterna Christi Munera I (Version for Solo Voice & Chamber Ensemble)

03:37

Total Runtime

01:28:19
Info for Jacek Różycki: Hymns

We present to you an album with compositions by Jacek Różycki, who we know was one of the most significant figures of the royal chapels of John II Casimir Vasa, Michał Korybut Wiśniowiecki, John III Sobieski, and Augustus II the Strong. The fact that we could contain the entire output of the composer on just two discs proves how much Polish intangible heritage we have lost. We can assume with high probability that, especially in the last years of his life, when he was associated with the royal court and worked between Dresden and Warsaw, Różycki composed instrumental pieces. However, they have not survived to our times. On the other hand, based on the preserved religious works, including those written in the Italian style i.e. Magnificat or Confitebor, it can be concluded that he was well acquainted with the composing craft and techniques popular in Europe at that time.
When I was preparing for and during the recordings, it was hugely interesting to navigate on the verge of historical truth, the performance hypotheses being considered and our inner musical sensitivity. I was particularly impressed by the hymns, mostly written in homorhythmic texture and intended primarily for the Rorantist ensemble in Wawel. It is impossible not to notice the strong influence of Protestant music. We recorded some of the hymns with a quite extensive ensemble with strings, sackbuts and cornett. The size of such an ensemble would certainly exceed the spatial capacity of the Sigismund Chapel. However, we assumed that they could also be performed in other interiors, hence this deliberately extended line-up, presenting our vision of Różycki's music. It should also be noted that in the case of most of the hymns, we have decided to keep at least one verse performed by a male quartet a cappella or with organ accompaniment, i.e. in a version close to the authentic sound.
Not all hymns are preserved in their complete form. So, I decided to compose the missing parts and thus return to my idea of ​​a hypothetical recreation of the score of old works. Maciej Jochymczyk took up this challenge, for which I thank him very much. Instrumental parts contains diminutions based on the performance practice of that time, and even improvisations going beyond the rules used in the 17th century. The idea was born during the preparation of a concert programme for the 55th International Festival Wratislavia Cantans. The message of this festival was one of the line of the anthem by Różycki Aeterna Christi munera (during the final concert, it was performed three times). The text of this composition comes from the hymn of St Ambrose. It is a meditation on the heroism of martyrs, whom the author describes as lights to the world. I decided to refer to these words, moved by the recent events triggered by the SARS-CoV-2 pandemic and the heroism of people helping those in need. They are true lights to the world – 'et vera mundi lumina'. I want to dedicate this album to them. (Andrzej Kosendiak)
Wroclaw Baroque Ensemble
Andrzej Kosendiak, conductor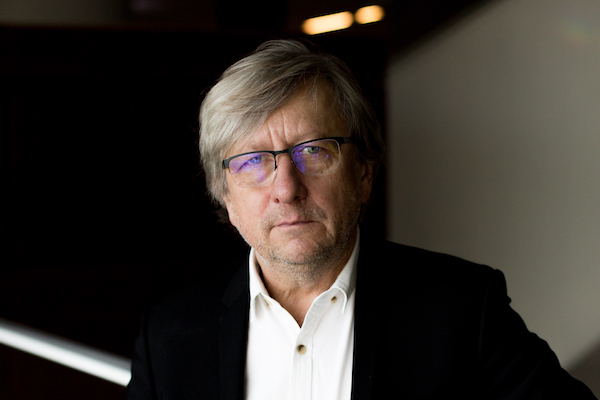 Andrzej Kosendiak
Director of the National Forum of Music, artist, conductor and pedagogue, Andrzej Kosendiak has earned an enviable reputation as one of the most active and committed musicians and organizers of music life in Poland. He graduated from the Department of Composition, Conducting and Music Theory of Wrocław Music Academy. In 2013 he obtained the academic degree of doctor habilitatus. For many years he taught at his Alma Mater, where in 2001-2009 he was head of the Cross-Department Early Music Studies. Since 2014 he has been Professor at the S. Moniuszko Academy of Music in Gdańsk. In 2005 he became Director of the Wrocław Philharmonic and the International Festival Wratislavia Cantans.
He soon reformulated the profile of both organizations and successfully led them to their merger in 2014 into one performing arts organization - the National Forum of Music. Upon his initiative, construction works of the new venue of the National Forum of Music were commenced, and he is now the coordinator of this state-of-the-art concert hall development. Andrzej Kosendiak's efforts led to the establishment of Society of Polish Philharmonics, of which he is now chair for the second term of office.
Of the National Forum of Music artistic ensembles, many were founded upon Andrzej Kosendiak's initiative: NFM Choir, Wrocław Baroque Orchestra, NFM Boys' Choir, and he also contributed to the founding of Polish National Youth Choir. Andrzej Kosendiak founded the festivals Forum Musicum and Leo Festival. Thanks to his efforts, in 2013 the Wrocław Philharmonic organized the 27th Congress of the International Society for the Performing Arts, attended by around 400 delegates and guests from all over the world. He is one of the authors of academies of early music held annually in Wrocław, combining concerts with master classes (Bach Academy in 2014 and Handel Academy in 2015). Andrzej Kosendiak has launched several educational projects: Singing Wrocław, Singing Poland, and Mummy, Daddy Sing to Me. He is one of the authors of Muzyka w Mieście monthly, issued since 2012 by the National Forum of Music.
Andrzej Kosendiak put forward the idea of recording the complete works of Witold Lutosławski – in the Opera Omnia series six albums have been released so far. Another initiative is 1000 Years of Music in Wrocław, presenting the musical heritage of our city. Thanks to his commitment, the phonographic project of Paul McCreesh and the NFM Choir is now under way, recording the greatest oratorios in music history. The discs released so far have won prestigious awards: BBC Music Magazine Award (twice), Diapason d'Or de l'Année and Gramophone Editor's Choice.
Early music is of particular interest to Andrzej Kosendiak: in 1985 he founded Collegio di Musica Sacra and has directed the ensemble ever since. They have given concerts in many European countries, as well as the US (including collaboration with Chapel Hill University NC), appearing at the most prestigious festivals and concert venues across Poland. His recording catalogue includes rediscovered music from Wrocław University Library – Musica da chiesa (DUX), and from Strasbourg Library - F. X Richter: 'Missa Pastorale', Dixit, Magnificat (CYPRES) as well as A. M. Bononcini's Stabat Mater (DUX). 2012 and 2014 saw the release of two discs with works by G. G. Gorczycki (CD Accord) directed by Andrej Kosendiak. The first disc was awarded Wrocław Music Prize and nominated for Fryderyk Award. As a conductor he gives regular concerts with the NFM Symphony Orchestra and Choir, as well as Wrocław Baroque Orchestra and philharmonic ensembles across Poland. Over the recent years he has conducted Haydn's The Creation, Handel's Messiah, Mozart's Mass in C minor and Requiem, Bach's Mass in B flat minor and both Passions (initiating years ago a tradition of performing these works in Wrocław during the Holy Week), Fauré's Requiem, and Britten's Saint Nicolas.

Booklet for Jacek Różycki: Hymns