---
Album info
Album including Album cover Booklet (PDF)
Eduard Nápravník (1839 - 1916): Violin Sonata in G Major, Op. 52:

1

Violin Sonata in G Major, Op. 52: I. Andante sostenuto - Allegro

10:35

2

Violin Sonata in G Major, Op. 52: II. Scherzo. Vivace

08:35

3

Violin Sonata in G Major, Op. 52: III. Andantino doloroso

06:02

4

Violin Sonata in G Major, Op. 52: IV. Allegro con fuoco

09:58

Suite for Violin & Orchestra, Op. 60 (Arr. for Violin & Piano):

5

Suite for Violin & Orchestra, Op. 60 (Arr. for Violin & Piano): I. Molto moderato - Allegro moderato

09:10

6

Suite for Violin & Orchestra, Op. 60 (Arr. for Violin & Piano): II. Scherzo. Allegro vivo

05:40

7

Suite for Violin & Orchestra, Op. 60 (Arr. for Violin & Piano): III. Elegie. Molto moderato

09:00

8

Suite for Violin & Orchestra, Op. 60 (Arr. for Violin & Piano): IV. Tarantella. Vivace

07:34

4 Pieces for Violin & Piano, Op. 64:

9

4 Pieces for Violin & Piano, Op. 64: No. 1, Nocturne

05:46

10

4 Pieces for Violin & Piano, Op. 64: No. 2, Valse-Caprice

04:51

11

4 Pieces for Violin & Piano, Op. 64: No. 3, Mélodie russe

05:13

12

4 Pieces for Violin & Piano, Op. 64: No. 4, Scherzo espagnol

04:02

Total Runtime

01:26:26
Info for Nápravník: Chamber Music, Vol. 1

The Czech-born Eduard Nápravník (1839–1916) became one of the pivotal figures in the musical life of nineteenth-century Russia: as conductor of the Imperial Mariinsky Opera in St Petersburg, he gave the premieres of some of the most important Russian operas, among them Mussorgsky's Boris Godunov, six by Tchaikovsky and nine by Rimsky-Korsakov. But his own music has largely been lost from sight – a fate it emphatically does not deserve, as these three works for violin and piano prove: big-hearted and big-boned, replete with passionate Tchaikovskian melody, they reveal a composer ripe for rediscovery.
Lana Trotovšek, violin
Ludmil Angelov, piano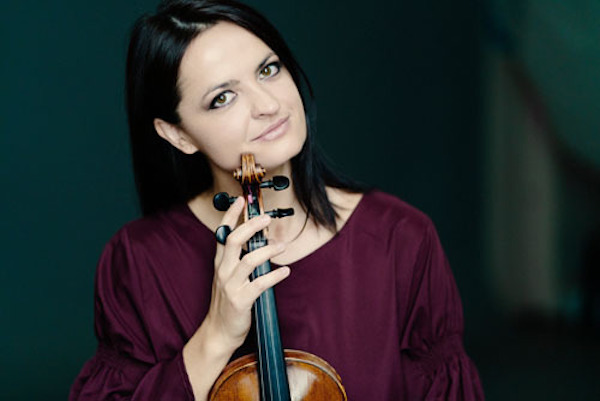 Lana Trotovšek
has won admiration for her expressive playing and unique musicality. The Washington Post has described her as 'Radiant' and praised her 'clean, refined tone with musical sense of phrasing and impeccable intonation'. She has captivated audiences with her 'warm sound and formidable technique' (La Vanguardia) and her talent of bringing 'freshness, depth and insight' (Broad Street Review) to her interpretations.
Since her debut in 2012 with Mariinsky Theatre Orchestra conducted by Valery Gergiev, Lana Trotovšek has appeared with some of the world's finest orchestras. In 2014, she toured with Moscow Soloists and Yuri Bashmet, and she recently performed Prokofiev's Violin Concerto No.1 with The London Symphony Orchestra under Gianandrea Noseda. Her 2015-16 schedule included performances with Orchestra Teatro Verdi under Tan Dun, as well as playing with the Slovenian, Shanghai, Sarajevo, and Zagreb Philharmonic Orchestras, the RTV Slovenia, the Kalamazoo Symphony Orchestra and The Chamber Orchestra of Philadelphia, where she was described as "an emerging voice to watch" by Philadelphia Inquirer.
Trotovšek has performed at some of the most prestigious venues, including the Wigmore Hall, Vienna's Konzerthaus, Teatro La Fenice in Venice, Amsterdam's Concertgebouw and Muziekgebouw in Eindhoven. Her talent has taken her beyond Europe to perform in China, Japan, the UAE, Canada, the USA and she has performed with many eminent conductors such as George Pehlivanian, Hans Graf, Uroš Lajovic, Barry Wordsworth, Andres Mustonen and others.
She has also featured as an artist at renowned international festivals including Rheingau, Aix-en-Provence, Shanghai International Arts Festival, Festival Internacional de Santander, Emilia Romagna, Ljubljana, Dubrovnik, Bad Kissingen, St Magnus International and Aldeburgh.
Trotovšek was born in Ljubljana, Slovenia, to a family of musicians. At the age of four, she began playing the violin under the guidance of Majda Jamsek. When she was 17 years old, her prodigious talent was recognised by Ruggiero Ricci, who mentored her at the Academy Mozarteum in Salzburg. During this period, she continued her studies at the Academy of Music, University of Ljubljana with Volodja Balzalorsky and Primoz Novsak. In 2005, her passion and skill was rewarded with the Prešeren Award, the highest university award for arts in Slovenia, following her performance of the Khachaturian Violin Concerto with the Slovenian Philharmonic Orchestra under the baton of George Pehlivanian.
From 2006-2011, she was a member of the Greenwich Piano Trio with cellist Stjepan Hauser and pianist Yoko Misumi. They won the Solti Foundation Award, The Tunnell Trust Award and other first prizes in chamber music competitions across Europe. They were guided by the Beaux Arts Trio cellist Bernard Greenhouse and pianist Menahem Pressler as well as Stephen Kovachevich.
Trotovšek continued her studies at Trinity College of Music with Vasko Vassilev, Boris Brovtsyn and Rivka Golani and at the London's Royal College of Music with Itzhak Rashkovsky, winning many international prizes. From 2011-13, she was the leading violinist of the Badke String Quartet, winners of the Melbourne International Chamber Music Competition.
Lana Trotovšek lives in London and is a professor at Trinity Laban Conservatoire of Music and Dance, where she completed her postgraduate studies in 2009. She maintains close ties to her home country, where she performs regularly, and is a visiting assistant Professor at the Academy of Music in Ljubljana. She plays the 1750 Pietro Antonio dalla Costa violin.
Ludmil Angelov
has won prizes and distinctions at many international competitions, as S. Obretenov (Bulgaria, 1972), Virtuosi di Musica per Pianoforte (Czechoslovakia, 1973), Senigallia (Italy, 1976), F.Chopin (Poland, 1985), Palm Beach (USA,1990), World Piano Masters (Monte-Carlo, 1994), and Piano Masters Tour (France and Monte-Carlo, 1997).
Having embarked upon an international career, he has been to all European countries, USA, South America, Hong Kong, Korea and Taiwan, appearing in recitals, chamber music concerts and as a soloist with many major orchestras, including the Covent Garden Orchestra, Monte-Carlo Philharmonic Orchestra, Berliner Sinfonieorchester, Schleswig-Holstein Sinfonieorchester, Russian State Symphony Orchestra, Russian Radio Symphony Orchestra, Moscow Symphony Orchestra, Flemish Radio Orchestra, European Masters Orchestra, Orchestre Philharmonique de Montpellier, Orchestre Philharmonique de Marseille, Orchestre Lamoureux, Orquesta Nacional de España, Orquesta Sinfónica de Madrid, Orquesta Sinfónica de RTV Española, Orquesta Ciudad de Granada, Lithuanian State Symphony Orchestra, Athens State Orchestra, Sofia Philharmonic, Bulgarian Radio Symphony Orchestra, etc. conducted by R. Milanov, L. Foster, J. DePreist, J.-B. Pommier, G. Pehlivanian, M. Andreae, F. Glushchenko, J. Pons, G. Schneider, Y. Sado, etc.
Ludmil Angelov has recorded for RCA, Pentatone Classics, Gega New, France Classique, Subi Classics or Toccata. His CD recording of Chopin's Complete Rondos & Variations has been awarded with Grand Prix du Disque Chopin by the International Chopin Institute of Warsaw.

Booklet for Nápravník: Chamber Music, Vol. 1