---
Album info
Album including Album cover Booklet (PDF)
Michel Pignolet de Montéclair (1667 - 1737): Recueil d'airs sérieux et à boire (Excerpts):

1

Recueil d'airs sérieux et à boire (Excerpts): Déserts, où des humains j'évite la presence

03:24

Ariane et Bachus:

2

Ariane et Bachus: Ariane adoroit le volage Thesée

01:04

3

Ariane et Bachus: Plus cruel que le minotaure

02:54

4

Ariane et Bachus: Ah! Dans mon desespoir

00:45

5

Ariane et Bachus: Mais, quel Dieu fait fremir les ondes - Sur ces bords écartés

01:20

6

Ariane et Bachus: Regnez, adorable mortelle

03:43

7

Ariane et Bachus: L'amour de la plus douce chaine

00:55

8

Ariane et Bachus: Si vos amans brisent leurs chaines

03:35

Concert No. 1 for Flute & Continuo in E Minor:

9

Concert No. 1 for Flute & Continuo in E Minor: I. La françoise

00:53

10

Concert No. 1 for Flute & Continuo in E Minor: II. Les tourterelles

02:21

11

Concert No. 1 for Flute & Continuo in E Minor: III. L'allemande - IV. L'angloise

02:02

12

Concert No. 1 for Flute & Continuo in E Minor: V. La mantoüane

00:48

13

Concert No. 1 for Flute & Continuo in E Minor: VI. La genoise

01:02

14

Concert No. 1 for Flute & Continuo in E Minor: VII. Sommeil des festes de l'été

02:13

15

Concert No. 1 for Flute & Continuo in E Minor: VIII. Le poitevin

00:39

16

Concert No. 1 for Flute & Continuo in E Minor: IX. Le breton

00:47

17

Concert No. 1 for Flute & Continuo in E Minor: X. Le parisien

01:17

18

Concert No. 1 for Flute & Continuo in E Minor: XI. L'auvergnate - XII. La florentine

02:24

19

Concert No. 1 for Flute & Continuo in E Minor: XIII. L'espagnol

01:36

20

Concert No. 1 for Flute & Continuo in E Minor: XIV. La milanoise

01:45

21

Concert No. 1 for Flute & Continuo in E Minor: XV. La venitiene

01:00

Concert No. 1 for Flute & Continuo in E Minor:

22

Recueil d'airs sérieux et à boire (Excerpts): Qu'à l'amour on est peu contraire

01:45

Premier recueil de brunettes, Suite No. 1:

23

Premier recueil de brunettes, Suite No. 1: I. Je suis charmé d'une brune

01:36

24

Premier recueil de brunettes, Suite No. 1: II. Le beau berger Tircis

01:46

25

Premier recueil de brunettes, Suite No. 1: III. La bergere Celimene

01:54

26

Premier recueil de brunettes, Suite No. 1: IV. Iris aux bords de Seine

01:04

27

Premier recueil de brunettes, Suite No. 1: V. J'aime un brun depuis un jour

00:31

28

Premier recueil de brunettes, Suite No. 1: VI. Lisette aime son berger

01:33

29

Premier recueil de brunettes, Suite No. 1: VII. Aimable solitude

01:19

30

Premier recueil de brunettes, Suite No. 1: VIII. Berger prens soin de mon troupeau

01:07

Le dépit généreux:

31

Le dépit généreux: Dieux justes! Dieux vengeurs!

01:41

32

Le dépit généreux: Arbres épais, sombre feüillage!

03:16

33

Le dépit généreux: Cherirai-je toujours une fatale flame?

00:58

34

Le dépit généreux: Douce tranquilité, paisible indifference

02:42

35

Le dépit généreux: Mais ciel quel changement!

00:41

36

Le dépit généreux: Je sens finir mes peines

03:42

Recueil d'airs sérieux et à boire (Excerpts):

37

Recueil d'airs sérieux et à boire (Excerpts): Adieu, mes innocents troupeaux

02:02

Total Runtime

01:04:04
Info for Beloved & Betrayed: Montéclair's Miniature Dramas for Flute & Voice

Michel Pignolet de Montéclair (1667-1737), a noted basse violon player in Paris, composed a small but exquisite body of innovative works in a variety of forms, including an opéra-ballet. He was also an important figure in the composition of music for flute at a time when innovations in design brought it to prominence as a solo instrument. This album traces his earliest published pieces through to his mature works of the 1730s. They show how Montéclair's use of vocalised writing, and his ornate and complex obbligati in the cantatas proved to be pivotal in the development of the transverse flute.
"As we know little about the early life of Michel Pignolet de Monteclair, this disc recalls the modest output of compositions from a noted player of the basse violon.
Here under the title 'Beloved and Betrayed', we have a disc featuring the flute and soprano voice, the scores comparing a number of emotions, though for the listener they are songs that give pleasure. The most lengthy work, the First Concert for Flute and Continuo, was composed in 1721, and probably written to demonstrate the recent changes in flute design could bring about. Certainly it must have required a virtuoso of that 'new' instrument, here the skills of Leela Breithaupt are put to the test on a new instrument made to a design from around 1715. Improbable to yield precise intonation, the woody sound brings a rustic quality to a score of fifteen short melodic ideas, mostly of a happy nature. The remainder of the disc belongs to the American soprano, Carrie Henneman Shaw, who has devoted much of her career to exploring composers born and working in the 17th century. She has members of Les Ordinaires in an accompanying role in her words of love, suffering and happiness, Shaw suitably colouring her voice to meet their moods. A very well balanced sound created in the Northern Illinois University. Text and English translations are in the disc's booklet. An absolute requisite for devotees of Early Music." (David's Review Corner)
Carrie Henneman Shaw, soprano
Leela Breithaupt, traverso
Les Ordinaires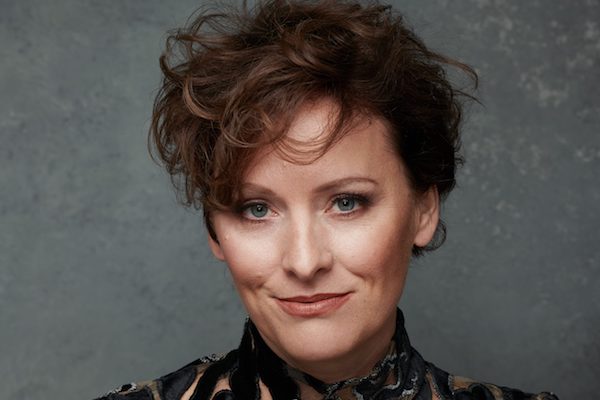 Carrie Henneman Shaw
Praised in the New York Times "as graceful vocally as she was in her movements," "consistently stylish" (Boston Globe), and as a "cool, precise soprano" (Chicago Tribune), Carrie Henneman Shaw is a two-time McKnight Fellowship for Performing Musicians winner (2010, 2017). She has premiered major works by such Minnesota composers as Jocelyn Hagen and Abbie Betinis, whose annual Christmas carols she records for Minnesota Public Radio, and sung American premieres by such composers as Georg Friedrich Haas, Hans Thomalla, and Augusta Read Thomas. In addition to her work as an interpreter of contemporary works, Carrie specializes in music of the 17th century and has performed operatic roles with one of America's leading Baroque opera companies, Boston Early Music Festival. Carrie is a member of Chicago's Ensemble Dal Niente, Quince Contemporary Vocal Ensemble, and Pesedjet. She holds degrees in English and voice performance from Lawrence University and a doctorate from the University of Minnesota.
Leela Breithaupt
performs and teaches Baroque and modern flutes and has appeared in the United States, Europe and Asia in solo and chamber settings. Focusing on period-specific interpretations, she has been lauded for her "great dexterity and extraordinary talent" (Norddeutsche Rundschau). Leela is a founding member and director of Les Ordinaires baroque trio, whose debut album, Inner Chambers: Royal Court Music of Louis XIV, will be released on Naxos Records in 2018. She is also recording a series of CD projects with the Indianapolis Baroque Orchestra under the direction of Barthold Kuijken. Leela teaches international Go Baroque masterclasses and writes articles for Flute Talk magazine.
Les Ordinaire
meaning 'The Ordinaries to the King', brings to life the grandeur and intimacy of quintessential 18thcentury chamber music. Performing on copies of 17th- to 18th-century instruments, the ensemble features the traverso, viola da gamba, and theorbo, which together were known as the Royal Trio. Comprised of critically acclaimed leaders in historically informed performance, members perform extensively throughout the United States and collaborate with top period ensembles including Boston Baroque, New York Baroque, Chatham Baroque, Bourbon Baroque, The Vivaldi Project, Smithsonian Chamber Players, Indianapolis Baroque Orchestra, Glimmerglass Opera and Wolf Trap Opera. They are sought after specialists, performing and teaching at festivals including the Savannah Music Festival, Indianapolis Early Music Festival, Bloomington Early Music Festival, Interlochen Arts Camp and Texas Music Festival.
Formed in 2013, Les Ordinaires captivates audiences through their intimate connection between performers and music. The group won audience accolades at their debut at the Twin Cities Early Music Festival and have delighted audiences in concerts at historical sites such as Locust Grove, Lanier Mansion, and Culbertson Mansion, supported by the Indiana Arts Commission and the National Endowment for the Arts. Other engagements include La Côte Flûte Festival in Gland, Switzerland and collaborations with soprano Carrie Henneman Shaw and harpsichordist Jory Vinikour at the Bloomington Early Music Festival and the Chicago Temple.

Booklet for Beloved & Betrayed: Montéclair's Miniature Dramas for Flute & Voice