---
Album info
Label: Mirare
Genre: Classical
Subgenre: Chamber Music
Artist: Salomé Gasselin, Andréas Linos, Mathias Ferré, Corinna Metz, Emmanuel Arakélian, Justin Taylor
Composer: Jacques Boyvin (1653-1706), Henri Dumont (1610-1684), Marin Marais (1656-1728), Jean-Adam Guilain (1680-1739), Louis Couperin (1626-1661), Pierre du Mage (1676-1751)
Album including Album cover Booklet (PDF)
Jacques Boyvin (1649 - 1706): Livre d'orgue II, Ton 8:

1

Boyvin: Livre d'orgue II, Ton 8: V. Récit grave

01:54

Henry Du Mont (1610 - 1684): Mélanges à 2, 3, 4 et 5 parties avec la basse continue, Livre 2, RISM A/I/2 D3701:

2

Mont: Mélanges à 2, 3, 4 et 5 parties avec la basse continue, Livre 2, RISM A/I/2 D3701: VIII. Allemande pour l'orgue ou le clavecin, et pour trois violes si l'on veut

01:34

Marin Marais (1656 - 1728): Pièces de viole, Livre 2, Suite No. 2:

3

Marais: Pièces de viole, Livre 2, Suite No. 2: No. 38, Cloches ou Carillon

05:33

Pièces de viole, Livre 2, Suite No. 3:

4

Marais: Pièces de viole, Livre 2, Suite No. 3: No. 63, Les Voix Humaines

04:04

Henry Du Mont: Bauyn Manuscript, F-Pn Rés.Vm7 674–675:

5

Mont: Bauyn Manuscript, F-Pn Rés.Vm7 674–675: Pavanne de Mons. Dumont

03:39

Jean-Adam Guilain (1680 - 1739): Pièces d'orgue pour le Magnificat:

6

Guilain: Pièces d'orgue pour le Magnificat: Récit de tierce en taille

03:14

7

Guilain: Pièces d'orgue pour le Magnificat: Trio

01:52

Marin Marais: Pièces de viole, Livre 3, Suite No. 6:

8

Marais: Pièces de viole, Livre 3, Suite No. 6: No. 82, Gigue la Chicane

02:11

9

Marais: Pièces de viole, Livre 3, Suite No. 6: No. 86, Plainte

03:15

Pièces de viole, Livre 5, Suite No. 6:

10

Marais: Pièces de viole, Livre 5, Suite No. 6: No. 83, Chaconne

03:11

Jean-Adam Guilain: Pièces d'orgue pour le Magnificat:

11

Guilain: Pièces d'orgue pour le Magnificat: Dialogue

02:32

Marin Marais: Pièces de viole, Livre 2, Suite No. 7:

12

Marais: Pièces de viole, Livre 2, Suite No. 7: No. 116, Pavane selon le goût des anciens compositeurs de luth

08:24

Jean-François Dandrieu (1682 - 1738): Premier Livre de Pièces d'Orgue, Suite VI:

13

Dandrieu: Premier Livre de Pièces d'Orgue, Suite VI: No. 3, Récit de tierce en taille

02:57

Henry Du Mont: Motets à deux voix, avec la basse-continue:

14

Mont: Motets à deux voix, avec la basse-continue: No. 33, Allemande en tablature d'orgue

02:35

Louis Couperin (1626 - 1661): Bauyn Manuscript, F-Pn Rés.Vm7 674–675:

15

Couperin: Bauyn Manuscript, F-Pn Rés.Vm7 674–675: La Piémontoise

02:05

Marin Marais: Pièces de viole, Livre 2, Suite No. 8:

16

Marais: Pièces de viole, Livre 2, Suite No. 8: No. 131, Sarabande

02:34

Pièces de viole, Livre 5, Suite No. 1:

17

Marais: Pièces de viole, Livre 5, Suite No. 1: No. 4, La Mariée

01:28

Pièces de viole, Livre 2, Suite No. 8:

18

Marais: Pièces de viole, Livre 2, Suite No. 8: No. 142, Fantaisie

04:34

Louis Marchand (1669 - 1732): Pièces choisies pour l'orgue:

19

Marchand: Pièces choisies pour l'orgue: Récit en Ré Mineur

02:23

Pierre Du Mage (1674 - 1751): Livre d'Orgue contenant une Suite du Premier Ton:

20

Mage: Livre d'Orgue contenant une Suite du Premier Ton: No. 5, Basse de trompette

02:18

Louis Couperin: Bauyn Manuscript, F-Pn Rés.Vm7 674–675:

21

Couperin: Bauyn Manuscript, F-Pn Rés.Vm7 674–675: Sarabande de Mons. Couperin

02:55

Pierre Du Mage: Livre d'Orgue contenant une Suite du Premier Ton:

22

Mage: Livre d'Orgue contenant une Suite du Premier Ton: No. 1, Plein Jeu

02:56

Total Runtime

01:08:08
Info for Récit

How is viola da gamba literature hidden in keyboard music during the reign of Louis XIV in France? "Récit", Salomé Gasselin's first album, explores this forgotten practice at a time when the viola da gamba was just becoming a solo instrument in France.
Salomé Gasselin met the viola da gamba the day she gave up the violin. "I was 10 years old and had just told my teacher at the Cholet music school that I wanted to stop playing music. In the corridor, there was a viola da gamba playing. It was love at first sight. The little girl, born on 19 June 1993 in Nantes and brought up in the vineyards of the Mauges region, alongside her mother, a professional flautist, did not yet know to what extent her life would change.
Long embodied by male figures, such as Jordi Savall, herald of the soundtrack of Alain Corneau's famous film Tous les matins du monde (1991), the viola da gamba is now imposing itself on a new generation of powerful and determined young women. Salomé Gasselin invited us to meet her in her Parisian lair, Judith Kraft's viola workshop at 99 rue du Faubourg-du-Temple. A calm and luminous place, on the first floor of a former factory, in a courtyard protected from the noise of this lively district of the 10th arrondissement.
Salome Gasselin, viola da gamba
Andreas Linos, viola da gamba
Corinna Metz, viola da gamba
Mathias Ferre, viola da gamba
Emmanuel Arakelian, organ
Justin Taylor, harpsichord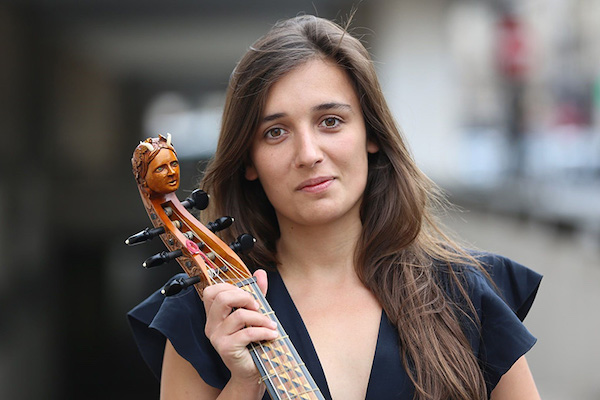 Salomé Gasselin
began playing the viola da gamba at the age of 11 at the Conservatoire d'Angers. She was taught by Emily Audouin and Julien Léonard, and went on to attend various international courses where she received advice from Wieland Kuijken, Paolo Pandolfo, Josh Cheatham and Vittorio Ghielmi.
At the age of 18, she entered the CNSMD of Lyon in Marianne Muller's viola da gamba class and the University of Paris X for a Bachelor's degree in Modern Literature. She then continued her musical studies with Philippe Pierlot and Mieneke van der Velden at the Koninklijk Conservatorium in The Hague, Netherlands.
Through various encounters, she very soon joined the ensembles of her generation and played with Capriccio Stravagante (Skip Sempé), Les Inventions (Patrick Ayrton), Pygmalion (Raphaël Pichon), A Nocte temporis (Reinoud van Mechelen). She has performed in Europe and in the United States in renowned festivals such as BOZAR in Brussels, Belgium, Oudemusiek in Utrecht, Netherlands, Early Music Christmas Festival in York, England, Kirchenmusikfestival in Oslo, Norway, Händel Festpiele in Göttingen, Germany, Festival Di Natale in Pavia, Italy, and in France at the Festival international d'art lyrique d'Aix-en-Provence (France), the Festival de Sablé, the Festival d'Ambronay, and others.
Attracted by the contemporary repertoire, she collaborates with the composers Sascha Thiele and Philippe Gouttenoire. She was also called upon to premiere a piece by Jerzy Bielski at the Gaudeamus Contemporary Music Festival in Utrecht in 2016. In parallel, Salomé is teaching viola da gamba at the CRR in Nantes.
Her future projects include the creation of Cyrano de Bergerac in autumn 2017, directed by Lazare Herson Macarel.

Booklet for Récit