---
Album info
Album including Album cover Booklet (PDF)
Jean Francaix (1912 - 1997): Concerto for Clarinet and Orchestra:

1

Francaix: Concerto for Clarinet and Orchestra: I. Allegro

07:46

2

Francaix: Concerto for Clarinet and Orchestra: II. Scherzando

05:55

3

Francaix: Concerto for Clarinet and Orchestra: III. Andantino

05:23

4

Francaix: Concerto for Clarinet and Orchestra: IV. Allegrissimo

06:06

Gioachino Rossini (1792 - 1868): Introduction, Theme and Variations:

5

Rossini: Introduction, Theme and Variations: I. Introduzione (Andante sostenuto)

04:05

6

Rossini: Introduction, Theme and Variations: II. Tema (Allegretto)

04:20

7

Rossini: Introduction, Theme and Variations: III. Largo minore

02:39

8

Rossini: Introduction, Theme and Variations: IV. Maggiore

03:04

Carl Maria von Weber (1786 - 1826): Andante and Hungarian Rondo:

9

Weber: Andante and Hungarian Rondo: I. Andante

04:35

10

Weber: Andante and Hungarian Rondo: II. Rondo

05:33

Carl Maria von Weber: Clarinet Concerto No. 1 in F Minor:

11

Weber: Clarinet Concerto No. 1 in F Minor: I. Allegro

08:08

12

Weber: Clarinet Concerto No. 1 in F Minor: II. Adagio ma non troppo

06:39

13

Weber: Clarinet Concerto No. 1 in F Minor: III. Rondo – Allegretto

06:29

Béla Kovács (b. 1937):

14

Kovács: Sholem Alekhem, Rov Feidman!

06:01

Total Runtime

01:16:43
Info for Façades

The links between Breguet and classical music are as strong as they are long established. The composers Giovanni Paisiello, Gioachino Rossini and Serge Rachmaninoff and the pianist Arthur Rubinstein, to mention only a few notable personalities, were all the happy owners of timepieces whose faces bore the signature of Breguet. Hence musical patronage has quite naturally become one of the key facets of the social and cultural activities of Montres Breguet.
It is for this reason that the House of Breguet, having supported the Geneva Competition for seventeen years, wishes to pursue its mission in favour of the competition winners and their careers. One of the means of achieving this is the Breguet Special Prize, which offers one of the winners of the competition the opportunity to record a disc. Breguet is delighted to support the young clarinettist Kevin Spagnolo, winner of the Seventy-third Geneva Competition in 2018, in this programme which he champions with power and passion.
Kevin Spagnolo, clarinet
Swedish Chamber Orchestra
Michael Collins, conductor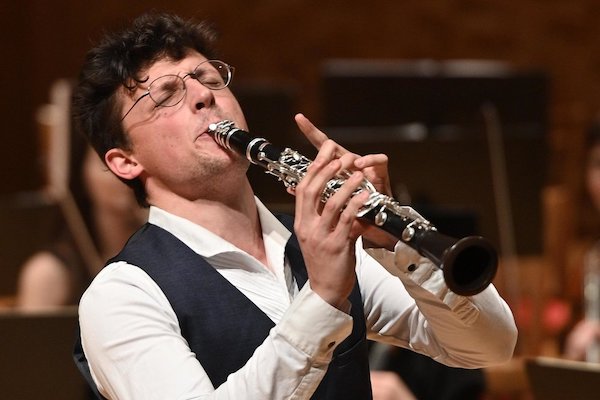 Kevin Spagnolo
Building on an exceptional mastery of the clarinet, Kevin Spagnolo (born in 1996) is known for his astonishing spontaneity and his search for freedom, pushing his playing to the very limits of the possibilities of his instrument, with which he more seems to make than one. This insatiably curious and mischievous musician seeks to share all his emotions with the public and is constantly in pursuit of new repertory, as is shown by his recent affection for chamber music and klezmer music.
In 2018, at the age of just twenty-two, Kevin won First Prize at the Geneva International Music Competition, one of the world's most important and prestigious contests. He was the youngest clarinettist in the history of the competition ever to win this key award. Since then he has been regularly invited to perform recitals, chamber music and concertos at leading festivals and on tour. His recitals and tours with such pianists as Carlos Sanchís, Chloe Jiyeong Mun, Théo Fouchenneret and Lorenzo Soulès or with the Quatuor Voce have taken him to the Festival Radio France Occitanie Montpellier, Festival des Haudères, Festival de Jeunes Talents in Paris and Concerts d'Été à Saint Germain in Geneva, among other venues.
Kevin has appeared as a soloist with the Orquesta Sinfónica de Aguascalientes and Román Revueltas, the Brussels Philharmonic and Antonio Saiote, the Orchestre de Chambre de Genève and Pierre Bleuse, the Mariinsky Theatre Orchestra (in the Copland Concerto) with Anton Shaburov thanks to the Musical Olympus Foundation, the Swedish Chamber Orchestra with Martin Fröst and once with Michael Collins, and the Orchestra Regionale Toscana on a tour of Tuscany with Nil Venditti.
Since 2019 Kevin Spagnolo has been principal clarinet of the Swedish Chamber Orchestra under its chief conductor Martin Fröst.

Booklet for Façades