---
Album info
Album including Album cover
I`m sorry!
Dear HIGHRESAUDIO Visitor,
due to territorial constraints and also different releases dates in each country you currently can`t purchase this album. We are updating our release dates twice a week. So, please feel free to check from time-to-time, if the album is available for your country.
We suggest, that you bookmark the album and use our Short List function.
Thank you for your understanding and patience.
Yours sincerely, HIGHRESAUDIO
1

Trust Life

03:42

2

Sentimental Sins

03:44

3

Faint of Heart

03:12

4

Drive On

04:16

5

Howl at the Night

03:26

6

NYC Girls

03:31

7

Dark Promises

03:58

8

Perfectly Wasted

03:15

9

Drunken Angels

06:01

10

Ola Volo

03:53

11

78's, 33's & 45's

03:30

12

Station Out of Range

05:24

13

Never Say Never

04:09

Total Runtime

52:01
Info for Once Upon a Hell of a Time...

Just as there is no comedy without tragedy, there is no party without heartache.
The Halifax, NS singer-songwriter's sixth studio album, Once Upon a Hell of a Time... straddles the melodramatic and the melancholy. It tells the story of a man in search of love, coping with loss and looking for something more.
The follow-up to JUNO Award-winning Coyote (2012), Once Upon a Hell of a Time...'s making spans five years and a handful of locales; starting with the LA studio once owned by Elliott Smith and with sessions at The Farm Studios in Vancouver, The Sonic Temple in Halifax, The Boiler Room in New York and Breakglass Studios in Montreal along the way. The bulk of the album was recorded with co-producer Loel Campbell (Wintersleep) during an intense two- month period in Montreal during the summer of 2016.
"This is a snapshot of four or five years of my life that were pretty wild, and pretty lost, and pretty free – in certain ways – and I kind of felt like I was coming to the end of a bit of a chapter," says Matt. "It was a fucking wild ride of emotions and late nights and all the feels. Kind of the record I've always wanted to make."
Like the last few embers left glowing long after the fire has faded, the album plays upon the pains of the human condition. The record reflects the all-encompassing grasp of yearning in an otherwise indifferent room. It's a persistent pang in a beating heart; a sad smile: an ode to coping while the party plays out and the sun slowly rises. A memoir of a place and a time, or several places and times etched into Matt's mind, and painted out in healing melodies.
In Shakespearean terms, it's called catharsis: the artful release of repressed emotions. For Matt Mays, it's a poignant, fading glare in the rearview mirror. "It's sort of a really intense, potent creative time of reflection on my last few years taking the easy way out of dealing with a lot of really hard things."
Once Upon a Hell of a Time... does take you on one a hell of a ride - fighting with emotions on "Sentimental Sins," defending loneliness on "Dark Promises," and unraveling pent-up grief on "Drunken Angels." As Matt explains it, the first single "Faint of Heart" is "about the trials and tribulations of a relationship and how you really have to put in the work if you want it to last. It's about tough love."
It's not all heart-on-your-sleeve. On "Perfectly Wasted," Matt puts party into poetry, transporting the audience to a moonlit shoreline and delves into an inner-dialogue, detailing the perfectly preserved state of suspended happiness that sinks so porously into absorption among good friends. "Ola Volo" was inspired by the work of the celebrated artist and illustrator Matt discovered when he became entranced by a mural she did for a Vancouver bar where he happened to be DJ'ing one night. Matt was later introduced to Ola by Loel Campbell and he asked her to create the album cover for Once Upon a Hell of a Time....
"I think I'm pretty honest in a lot of these songs," he says. "They all mean a lot to me personally and they're all my own story, but I think they just come across as fast, fun, rock songs — and I wanted to make people feel like everything is OK in the music, but [still] dealing with stuff that's pretty real with the lyrics."
A carefully crafted punctuation mark on more than a decade of fun, fierce, fragments, Once Upon a Hell of a Time... sheds the skin of a former self and bridges the gap to a new chapter in Mays' musical — and personal — life. "Between dealing with loneliness and loss with self-medicating and false escapism, it kind of came to a head, and I sort of did my last hurrah."
Matt Mays, vocals, guitar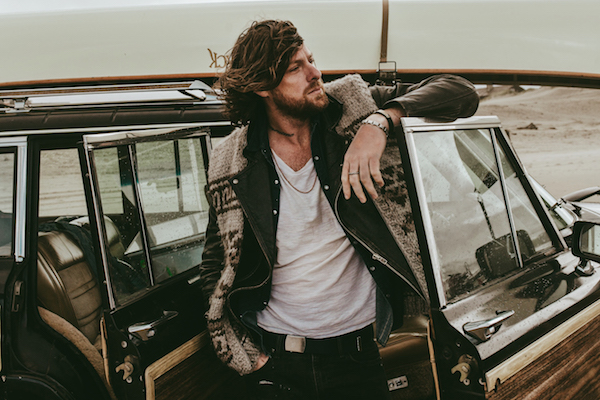 Matt Mays
is on a quest to find and create the music that he hears in his head. When he stays still the sound of it drifts farther away: "when the vibrations stop," he says "it's time to move on." A few years back, Matt left wherever he was living at the time to embark on a journey into open space. To live in the midst of a world where anything could happen. A crusade into the sound, traversing the vast musical divide that he calls home. Mexico, California, Indonesia, Hawaii, Costa Rica, New York… wherever. He used surfing, yoga, and a ukulele as tools to bring him closer to the melodies and words in his head. Eventually, the sound was found. As soon as he stepped off the plane in Halifax he started work on an album he called Coyote: a proper home for all his experiences. Imagery painted with song. Coyote covers the whole spectrum of the sound that Mays finally found. "I've always loved animals that are beautiful but dangerous," Matt explains. "It's a good analogy for life. Coyotes are native to Canada, Mexico and the United States and that's where I lived while writing this album."
Coyote is Matt's fifth album since his self-titled debut. Released in late 2012, it has won three MusicNS awards, been named Album of the Year by the ECMA and won a JUNO for Rock Album of the Year.
Whether it's a California stoned and hazy rock and roll song like 'Indio' or an alone at the microphone heartstring strummer like 'Chase The Light', you'll feel it. You can tell Matt found what he was looking for. In every song you can hear a freedom in his voice, and if you listen closely enough can hear the sand from ten different beaches scratching on the fret board of his guitar. "I wanted to make songs that followed my outlook on life as honestly as possible and record them as honestly as possible. That's it."
The gods were on Matt's side one day while working on Coyote. He was scheduled for a mixing session at one of New York's most prestigious studios and the mix files didn't show up. Panic mode. The studio engineer asked Matt if he had any songs to record to make use of the time. Luckily, the night before Matt stayed up all night and wrote 'Take It On Faith', which ended up being Coyote's first single. "I had no musicians handy so I was forced to play everything myself except for the drums which were played by local monster Greg Wieczorek who happened to be one street over in Soho with his drums in his car. He nailed it, first take. The whole song was recorded in a few hours. It was one of those rare sessions where everything works out." It's fitting that fate was such an integral part of the birth of the song 'Take It On Faith'.

This album contains no booklet.