---
Album info
Album including Album cover Booklet (PDF)
Ernst von Dohnányi (1877 - 1960): Serenade for String Trio in C Major, Op. 10:

1

Dohnányi: Serenade for String Trio in C Major, Op. 10: Marcia

02:19

2

Dohnányi: Serenade for String Trio in C Major, Op. 10: Romanza

03:19

3

Dohnányi: Serenade for String Trio in C Major, Op. 10: Scherzo

04:55

4

Dohnányi: Serenade for String Trio in C Major, Op. 10: Tema Con Variazioni

06:26

5

Dohnányi: Serenade for String Trio in C Major, Op. 10: Rondo (Finale)

04:57

Ludwig van Beethoven (1770 - 1827): Septet for Clarinet, Bassoon, Horn, Violin, Viola, Cello and Double Bass in E-Flat Major, Op. 20:

6

Beethoven: Septet for Clarinet, Bassoon, Horn, Violin, Viola, Cello and Double Bass in E-Flat Major, Op. 20: Adagio - Allegro Con Brio

09:37

7

Beethoven: Septet for Clarinet, Bassoon, Horn, Violin, Viola, Cello and Double Bass in E-Flat Major, Op. 20: Adagio Cantabile

08:27

8

Beethoven: Septet for Clarinet, Bassoon, Horn, Violin, Viola, Cello and Double Bass in E-Flat Major, Op. 20: Tempo Di Menuetto

03:17

9

Beethoven: Septet for Clarinet, Bassoon, Horn, Violin, Viola, Cello and Double Bass in E-Flat Major, Op. 20: Tema Con Variazioni. Andante

07:23

10

Beethoven: Septet for Clarinet, Bassoon, Horn, Violin, Viola, Cello and Double Bass in E-Flat Major, Op. 20: Scherzo

03:06

11

Beethoven: Septet for Clarinet, Bassoon, Horn, Violin, Viola, Cello and Double Bass in E-Flat Major, Op. 20: Andante Con Moto Alla Marcia - Presto

07:32

Total Runtime

01:01:18
Info for Beethoven: Septet & Dohnányi: Serenade

The Kreisler Trio Wien has again invited renowned guest musicians for it's latest album, including the principal hornist of the Vienna Philharmonic, Wolfgang Vladar. The main work of this recording is Beethoven's Septet, Op. 20, combined with the charming Serenade for String Trio by Ernst von Dohnanyi as the door-opener.
A contemporary of Béla Bartók and Zoltán Kodály, Ernö von Dohnányi was one of the foremost musical personalities of the 20th century. Born in Bratislava in 1877, Dohnányi was a child prodigy on the piano and made his debut at age seven. He studied with pupils of Franz Liszt and Johannes Brahms at the Budapest Music Academy and went on to become one of the most influential piano virtuosi of his generation. Brahms was largely responsible for the successful career of the young Dohnányi: he organized a performance of 18-year-old Dohnányi's Piano Quintet with pianist Arthur Nikisch in Bad Ischl (Austria), and a premiere of the same quintet in the Wiener Musikverein. Brahms was ecstatic: "I couldn't have done it better myself!" In 1908, after highly successful years in Vienna, Dohnányi was appointed by Joseph Joachim to a professorship at the Berliner Musikhochschule.
Andreas Wieser, clarinet (Tracks 6-11)
Michael Zottl, bassoon (Tracks 6-11)
Wolfgang Vladar, horn (Tracks 6-11)
Josef Niederhammer, double bass (Tracks 6-11)
Kreisler Trio Wien: (Tracks 1–11)
Bojidara Kouzmanova-Vladar, violin
Axel Kircher, viola
Luis Zorita, cello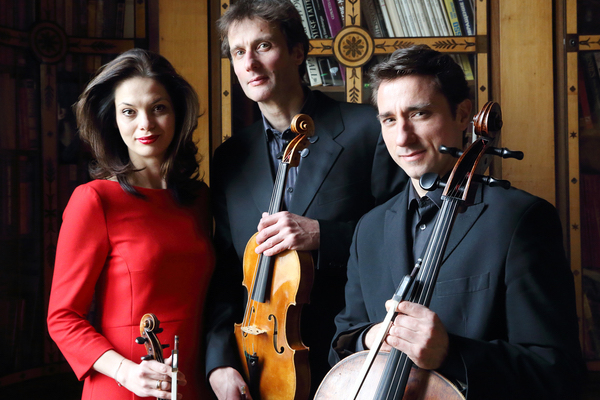 The Kreisler Trio Wien
celebrates its 15th anniversary in 2022. Thanks to its characteristic music-making culture and excellent quality, it is one of the outstanding Austrian chamber music ensembles today.
The name is a tribute to the brilliant Austrian violinist and composer Fritz Kreisler, whom they admire unreservedly and whose musical cosmopolitanism, elegance and profundity are an enduring inspiration for the trio.
In addition to performances at the Brahms Hall of the Vienna Musikverein, the Vienna Konzerthaus, the Styriarte Graz as well as at renowned festivals throughout Europe and several radio recordings, the String Trios op. 11 by I. J. Pleyel were recorded on CD in 2011.
In 2018, the CD with Mozart's Divertimento K. 563 and Horn Quintet K. 407 was released by Paladino-Records and received extremely positive reviews in the international specialist media. Since June 2021, another CD recording with Dohnanyi's Serenade and Beethoven's Septet is available on Paladino-Records.
Current projects include cyclical performances of all of Beethoven's string trios and Brahms' piano quartets, as well as Beethoven's Septet op. 20 and the octets by Schubert and Francaix together with wind players from the Vienna Philharmonic.
For the coming season, the programme includes Bach's Goldberg Variations, the String Trio in B minor by F. S. Kelly, a new programme with compositions from Theresienstadt in combination with the String Trio by Arnold Schönberg and several concert programmes under the title "Divertimento!
In addition to the classics of the string trio literature, the music of the 20th and 21st centuries plays an important role for the Kreisler Trio: Alfred Schnittke, Arnold Schönberg, Anton Webern and commissioned compositions by e.g. Julia Purgina, Herwig Reiter, Alexander Wagendristel, Daniel Moser and Hannes Kerschbaumer are presented by us in innovative programme constellations.
Since the 2018/19 season, the ensemble has been presenting its own concert series for its regular Viennese audience with specially conceived programmes under the title "Edler Klang & feine Weine" (Noble Sound & Fine Wines), which takes place in the festival hall of the Old Town Hall in Vienna and in the Burgenland wine-growing town of Neckenmarkt.
Performances in Vienna, Zurich, Paris, Warsaw, Budapest, Stuttgart, Sofia, Salzburg, Graz, Linz and St. Pölten are on the Kreisler Trio Wien's concert calendar for 2022/23.

Booklet for Beethoven: Septet & Dohnányi: Serenade