---
Album info
Label: Coviello Classics
Genre: Classical
Subgenre: Choral
Artist: Capella De La Torre, Chorwerk Ruhr & Florian Helgath
Composer: Giovanni Gabrieli (1557-1612), Alessandro Orologio (1555-1633), Orlando di Lasso (1532-1594), Tarquinio Merula (1590-1665), Jacobus Gallus (1550-1591), Marco Antonio Ingegneri (1547-1592), Andrea Gabrieli (1510-1586), Heinrich Hartmann (1580-1616), Johann Caspar Kerll (1627-1693), Hieronymus Praetorius (1560-1629), Giovanni Battista Stefanini (1574-1630), Hans Leo Hassler (1564-1612)
Album including Album cover Booklet (PDF)
Giovanni Gabrieli (1557 - 1612):

1

Gabrieli: Jubilate Deo à 8

04:31

Alessandro Orologio (1551 - 1633):

2

Orologio: Intrada

01:49

Orlando Di Lasso (1532 - 1594):

3

Lasso: Deus in adiutorium à 6

02:59

Tarquinio Merula (1595 - 1665):

4

Merula: Ciaconna à 6

02:43

Jacobus Gallus (1550 - 1591):

5

Gallus: Ecce quomodo moritur à 4

03:27

Marco Antonio Ingegneri (1535 - 1592):

6

Ingegneri: Duo seraphim à 8

02:59

Andrea Gabrieli (1532 - 1585):

7

Gabrieli: Exsultate justi à 8

04:03

Heinrich Hartmann (1555 - 1616):

8

Hartmann: Ist nicht Ephraim dein Teurer

03:29

Johann Kaspar Kerll (1627 - 1693):

9

Kerll: Intrada Battaglia

05:25

Hyronimus Praetorius (1560 - 1629):

10

Praetorius: Tulerunt Dominum meum à 8

07:57

11

Praetorius: Fuit homo missus a Deus à 5

03:27

Orlando Di Lasso:

12

Lasso: Tristis est anima mea à 5

03:20

Hyronimus Praetorius:

13

Praetorius: Gloria tibi à 7

04:26

Jacobus Gallus:

14

Gallus: Jerusalem gaude

02:05

Giovanni Battista Stefanini (1574 - 1630):

15

Stefanini: Christus resurgens

02:19

Jacobus Gallus:

16

Gallus: Media vita in morte sumus

02:45

Hans Leo Hassler (1564 - 1612):

17

Hassler: Pater noster

03:52

Francesco Biancardi (1572 - 1607):

18

Biancardi: Ave gratia plena à 6

03:50

Moritz Landgraf von Hessen (1572 - 1632):

19

Hessen: Hosianna filio David à 8

03:38

Asprilio Pacelli (1570 - 1623):

20

Pacelli: Cantate Domino à 8

03:17

Total Runtime

01:12:21
Info for Bodenschätze (Motetten aus dem 17. Jahrhundert)

The great "composer of the millennium" Johann Sebastian Bach stands like a solitary rock in the landscape of music history. There is less talk about where he came from and what influenced him stylistically. Chorwerk Ruhr embarked on a search for clues with highly interesting results: the young Johann Sebastian also listened to and studied works that were already around 100 years old. In any case, during his later years as Thomaskantor in Leipzig, he ensured that the collection of motets Florilegium selectissimarum Cantionum was purchased anew – it was used so frequently in lessons under his aegis that the music material was completely worn out. The collection by the early Baroque master and school cantor Erhard Bodenschatz, first published in 1603, illustrates the then new compositional technique of the Baroque in a clearly comprehensible way in songs mostly by German or Italian masters.
Capella de la Torre
ChorWerk Ruhr
Florian Helgath, conductor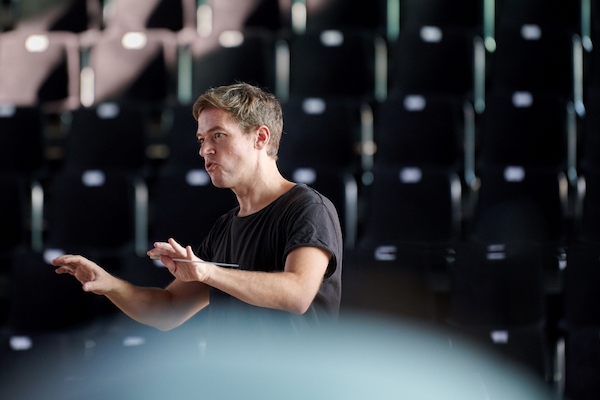 Florian Helgath
is emerging as one of the leading choral conductors of the young generation. Since 2011 Florian Helgath has been Artistic Director of the Chorwerk Ruhr. Since 2017 he is also Artistic Director of the Zürcher Sing-Akademie. With these vocal ensembles he creates choir music of all periods on the highest level both in A cappella and with orchestras.
Florian Helgath has held the position as conductor of the Danish National Choir from 2009 to 2015. In addition he was Artistic Director of the Via Nova Choir Munich from 2008 to 2016. With this ensemble he has conducted numerous acclaimed first performances and has been awarded with international prizes.
Florian Helgath is also a regular guest conductor of the SWR Vokalensemble, RIAS Kammerchor, MDR Leipzig Radio Choir, Choir of the Bavarian Radio, Vocalconsort Berlin, Netherlands Radio Choir, Choeur de Radio France, Flemish Radio Choir, Norwegian Soloists' Choir, Warsaw Philharmonic Choir among others and collaborates with orchestras as Concerto Köln, Akademie für Alte Musik Berlin, B'Rock Orchestra, Orchestra La Scintilla, Brussels Philharmonic, Münchner Rundfunkorchester, WDR Funkhausorchester, Münchner Symphoniker, Bochumer Symphoniker, Dortmunder Philharmoniker, Berner Kammerorchester, Odense Symphony, Danish Chamber Orchestra and Ensemble Resonanz.
Concerts led him to major concert halls and festivals as the Berliner Festspiele, Schwetzingen Festival, Audi Summer Concerts, Eclat Festival Stuttgart, Thüringer Bachwochen and particularly to the Ruhrtriennale with contemporary opera performances and numerous manifold projects. In addition to A cappella projects, Florian Helgath's focus is increasingly on performances of choral and symphonic repertoire.
Upcoming highlights include guest conducting with the RIAS Kammerchor, Aarhus Symphony & Choir, South Denmark Philharmonic & Choir, Choeur de Radio France, World Choir Symposium in Auckland, concerts with Chorwerk Ruhr at Muziekgebouw Amsterdam and deSingel Antwerpen and others.
Florian Helgath's discography includes a number of recordings as the album Sacred Songs with works by J.S. Bach, Reger and Knut Nystedt with the MDR Leipzig Radio Choir (ICMA Award 2017), works by Palestrina and Wagner also with the MDR Leipzig Radio Choir, Contemporary Choral Music with the Via Nova Chor as well as J.S. Mayr's Missa in c – Stabat Mater with the Orpheus Vokalensemble and Concerto Köln among others. For the album Da Pacem: Echo der Reformation with the RIAS Kammerchor and Capella de la Torre Florian Helgath received the ECHO Klassik 2017. The recording of Tigran Mansurian's Requiem with RIAS Kammerchor prepared by Florian Helgath and the Munich Chamber Orchestra for ECM Records had been nominated for a Grammy in 2018.
In October 2020 Florian Helgath accepted an appointment as professor at the University of Music and Dance in Cologne, where he teaches choral conducting.
Florian Helgath's initial experience started as a chorister in his native city with the Regensburger Domspatzen. He studied choral conducting at the Hochschule für Musik und Theater in Munich and graduated in 2008 with a Masters Degree. Among his most important teachers are Michael Gläser, Stefan Parkman, Dan-Olof Stenlund who influenced him largely in his career as conductor.
As a prizewinner and finalist of the Eric Ericson Award 2006 and Competition for Young Choral Conductors in Budapest 2007, Florian Helgath had drawn the attention of the international choral music scene.

Booklet for Bodenschätze (Motetten aus dem 17. Jahrhundert)