---
Album info
Album including Album cover Booklet (PDF)
Andreas Tarkmann (b. 1956): Inka-Kantate Töchter der Sonne:

1

Inka-Kantate Töchter der Sonne: I. Schwer schreitet der junge Morgen

06:35

2

Inka-Kantate Töchter der Sonne: II. Und mein Mund?

01:18

3

Inka-Kantate Töchter der Sonne: III. Wir weben und weben

02:29

4

Inka-Kantate Töchter der Sonne: IV. Nur einmal frei sein

02:43

5

Inka-Kantate Töchter der Sonne: V. Mein Freund

02:47

6

Inka-Kantate Töchter der Sonne: VI. Von würdigen Ahnen

01:14

7

Inka-Kantate Töchter der Sonne: VII. Still ist es in diesem Haus

03:48

8

Inka-Kantate Töchter der Sonne: VIII. Auf den Berg ziehen wir

01:36

9

Inka-Kantate Töchter der Sonne: IX. Ein Fest wollen wir feiern

02:45

10

Inka-Kantate Töchter der Sonne: X. Und dann die grossen, jungen Krieger

01:43

11

Inka-Kantate Töchter der Sonne: XI. Und wenn der kalte Abend

02:02

12

Inka-Kantate Töchter der Sonne: XII. Gegangen ist meine Sonn'

04:32

13

Inka-Kantate Töchter der Sonne: XIII. Ihr Töchter, ihr meine Schwestern

03:45

14

Inka-Kantate Töchter der Sonne: XIV. Gekommen nun meine letzte Nacht

04:22

15

Inka-Kantate Töchter der Sonne: XV. Dunkel schreitet der Abend

05:48

16

Inka-Kantate Töchter der Sonne: XVI. Jubeln lasst uns Vater Sonne

01:15

Gustav Holst (1874 - 1934): Sāvitri, Op. 25:

17

Sāvitri, Op. 25: I. Sāvitri, Sāvitri

04:20

18

Sāvitri, Op. 25: II. Greetings to Thee, My Loving Sāvitri

07:38

19

Sāvitri, Op. 25: III. I Am with Thee, My Arms Around Thee

05:43

20

Sāvitri, Op. 25: IV. Then enter Lord, Dwell with Me

06:07

21

Sāvitri, Op. 25: V. Death the Just One, Whose Word Ruleth All

03:22

22

Sāvitri, Op. 25: VI. Sāvitri, Is it Thou?

04:49

Total Runtime

01:20:41
Info for Andreas Tarkmann: Inka-Kantate Töchter der Sonne & Gustav Holst: Savitri

Andreas N. Tarkmann calls his latest work "Daughter of the Sun – Inca Cantata" – a film about the old town Machu Picchu rediscovered in 1911 gave him the idea. In the Inca culture, the "sun virgins" were young girls who were snatched from their families at an early age, who lived isolated in a monastery and were responsible for the development of the religious sun cult.
From this historical tradition, librettist Markus Pohlmeyer developed a series of sixteen songs which, although fictitious, credibly tell the life of the daughters of the Sun from their point of view. Tarkmann developed his own musical language, which he wrote especially for the Mädchenchor Hannover. Gustav Holst's chamber opera "Savitri" is an excellent addition – it goes back to an episode from the old Indian epic of the same name. Under the direction of Gudrun Schröfel, the Girls' Choir is able to bring its tonal strengths to bear in both works.
Lena Kutzner, soprano
Benjamin Bruns, tenor
Ryszard Kalus, bass
Mädchenchor Hannover
ARTE ENSEMBLE Hannover
Gudrun Schröfel, direction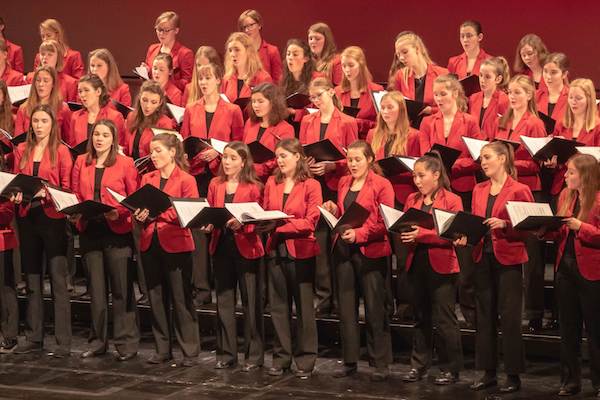 Der Mädchenchor Hannover
gehört zu den weltbesten Jugendchören seiner Kategorie. Er genießt in der internationalen Chorwelt ein hohes Ansehen. Als Kulturbotschafter repräsentiert der Mädchenchor die Unesco City of Music Hannover, das Musikland Niedersachsen und die BundesrepublikDeutschland auf seinen Konzerttourneen durch ganz Europa, in die USA, nach Israel, Brasilien, Chile, Russland, Japan und China.
Der Mädchenchor ist Preisträger nationaler und internationaler Chorwettbewerbe u.a. des Deutschen Chorwettbewerbs, des Johannes Brahms Wettbewerbs, der BBC Awards, des Chorwettbewerbs der Europäischen Rundfunkanstalten Let the Peoples Sing, des Internationalen Kammerchor-Wettbewerbs Marktoberdorf sowie der internationalen Chorwettbewerbe Guido d'Arezzo und Prof. G. Dimitrov. Beim 9. Deutschen Chorwettbewerb 2014 bestätigte der Mädchenchor erneut seine differenzierte musikalische Gestaltungskunst und seine brilliante Klangqualität durch den 1. Preis.
Mit seinen CD-, Rundfunk- und Fernsehaufnahmen hat der Chor Maßstäbe für die Bereiche Kinder-, Jugend- und Frauenchor gesetzt.
Das Repertoire des Mädchenchor Hannover umfasst das gesamte Originaloeuvre, das von kompositorisch hochstehenden Adaptionen ergänzt wird und von der tradierten Literatur bis hin in das Feld avantgardistisch-experimenteller Musik reicht. Nicht wenige der exponiertesten zeitgenössischen Komponisten haben dem Chor Werke gewidmet oder von ihm Kompositionsaufträge erhalten: Toshio Hosokawa, Wilhelm Killmayer, Arvo Pärt, Thilo Medek, Steffen Schleiermacher, Alfred Koerppen, Veljo Tormis, Einojuhani Rautavaara, Knut Nystedt, Manfred Trojahn, Wilfried Hiller, Peter Eötvös, Vinko Globokar – um an dieser Stelle nur einige zu nennen.
Präzision des Notentextes und Homogenität des Chorklanges sind Selbstverständlichkeiten, Stil- und Intonationssicherheit verbinden sich mit einer variantenreichen Palette stimmlicher Ausdrucksmittel. Die prägnante Aussprache sorgt auch in verdichteten Strukturen für Textverständlichkeit. Die lockere, brilliante Höhe der Sopran- und die kraftvoll fundierten Altstimmen zielen auf ein spannungsvolles Musizieren, das sinnlichem Wohlklang nicht akademisch aus dem Wege geht.
Die Chor- und Singschule Mädchenchor Hannover ist eine der herausragenden kulturellen Bildungseinrichtungen des Landes Niedersachsen.
Die Konzertsaison umfasst mehr als 30 Konzerte, zusätzlich Gottesdienstsingen und Ensembleauftritte.
Arte Ensemble Hanover
Das renommierte ARTE ENSEMBLE begeht in der Saison 2018/2019 sein 25jähriges Jubiläum und bietet in seinem außergewöhnlichen Repertoire abwechslungsreiche Programme mit namhaften Künstlern wie Dominique Horwitz (Schauspieler), Ralph Caspers (WDR, Moderator), Markus Becker (Klavier), Ania Vegry (Sopran), Christian Brückner (Schauspieler und Synchronsprecher), dem Tanztheater Nina Kurzeja, Lothar Hensel (Bandonéon), Konrad Beikircher (Kabarettist) oder Georg Glasl (Zither).
Es ist wiederholt Gast in großen Konzertreihen und Festivals wie dem Schleswig-Holstein Musikfestival, Heidelberger Frühling oder Musikfest Stuttgart und folgte im Jahr 2013 einer Einladung durch das Mozarteum Brasileiro zu Konzerten in São Paulo.
Beim Musikfest Stuttgart 2010 präsentierte das ARTE ENSEMBLE im Auftrag der Bachakademie Stuttgart zusammen mit dem Tanztheater Nina Kurzeja die erste deutsche Wiederaufführung des ersten Bühnenwerks von Kurt Weill, der Kinderpantomime "Zaubernacht". Die fast 90 Jahre verschollene Partitur wurde im Theaterhaus Stuttgart mit drei Aufführungen zum ersten Mal seit der Uraufführung im Jahr 1922 wieder der deutschen Öffentlichkeit vorgestellt.
Beim Kurt Weill Fest Dessau 2011 wurden für das TV Portrait über Kurt Weill: "Sprich leise, wenn du Liebe sagst" Ausschnitte der Zaubernacht aufgezeichnet und im ZDF / 3sat gesendet. In Kooperation mit der Europäischen Filmphilharmonie Berlin wurde das Repertoire um zwei Filmprojekte erweitert: Mit "The Lodger" schuf Alfred Hitchcock seinen ersten "richtigen" und erfolgreichen Hitchcock-Krimi während Georg Wilhelm Pabst in "Abwege" ein Gesellschaftsbild im Berlin der 20er Jahre zeichnete.
Das Programm des ARTE ENSEMBLE mit Zither ist eine absolute Rarität im klassischen Konzertleben und wurde gemeinsam mit dem Zithersolist Georg Glasl entwickelt, der an der Musikhochschule München dieses reizvolle Instrument unterrichtet. Die Uraufführung erfolgte am 4. Oktober 2015 im NDR.
Erstmals im Jahr 2015 hat der MÄDCHENCHOR HANNOVER und das ARTE ENSEMBLE mit dem Psalm 51 von G.B. Pergolesi / J.S. Bach "Tilge, höchster, meine Sünden", BWV 1083 ein gemeinsames musikalisches Projekt gestaltet und den Psalm auf CD eingespielt. Aus dieser Begegnung entwickelte sich eine weitere künstlerische Zusammenarbeit mit Gustav Holsts "Savitri" und der Uraufführung der "Inka Kantate" von Andreas N. Tarkmann, welche mit einer CD Aufnahme beider Werke im März 2018 abgeschlossen wurde und demnächst erscheint.
Das ARTE ENSEMBLE feiert in der Saison 2018/2019 sein 25jähriges Bühnenjubiläum mit vier Konzerten in Niedersachsen, beginnend am 21. Oktober 2018 im NDR Landesfunkhaus Hannover u.a. mit der Uraufführung von Kurt Weills "Kleine Zaubernachtmusik".

Booklet for Andreas Tarkmann: Inka-Kantate Töchter der Sonne & Gustav Holst: Savitri