---
Album info
Album including Album cover Booklet (PDF)
Gabriel Fauré (1845 - 1924): Suite Dolly Opus 56:

1

Berceuse

02:27

2

Mi-a-ou

02:01

3

Le jardin de Dolly

02:33

4

Kitty-valse

02:38

5

Tendresse

03:11

6

Le pas espagnol

02:13

Alexander Glazunov (1865 - 1936): Jeux d'enfants Opus 22:

7

L'escarpolette

02:35

8

La toupie

00:58

9

La poupée

02:06

10

Les chevaux de bois

01:07

11

Le volant

01:23

12

Trompette et tambour

02:26

13

Les bulles de savon

01:25

14

Les quatre coins

02:17

15

Colin-maillard

01:54

16

Saute-mouton

01:26

17

Petit mari, petite femme

02:39

18

Le bal

01:44

Claude Debussy (1862 - 1918): Petite Suite:

19

En bateau

03:23

20

Cortège

03:13

21

Menuet

02:59

22

Ballet

03:29

Maurice Ravel (1875 - 1937): Ma mère l'Oye:

23

Pavane de la Belle au bois dormant

01:38

24

Petit Poucet

02:53

25

Laideronnette, Impératrice des Pagodes

03:28

26

Les entretiens de la Belle et de la Bête

04:06

27

Le Jardin féerique

03:35

Total Runtime

01:05:47
Info for Fauré, Bizet, Debussy, Ravel: L'enfance

Bizet, Faure, Debussy and Ravel, each with his own style and individual colors, gazed with wonder on the world of childhood. This collection of their works for piano duet evokes the colorful and naïve universe of the child. Much more than mere salon pieces, these charming works transport the listener to the land of dreams. Performed here by the impressive four-hands duo of Claire Desert and Emmanuel Strosser, they are tender, sensuous, touching and sincere. Repertoire includes Fauré's Dolly, Bizet's Jeux d'enfants, Debussy's Petite Suite and Ravel's Ma mere l'Oye.
"Onslow's melodies rise and fall in huge spans often driven from below by subtle shifts in harmony …Finely nuanced dynamics only adding to the already emotionally charged atmosphere…forget comparisons! This voice is worth hearing in its own right." (Early Music Review)
"The two pianists sharing a piano stoool embody the best of the French tradition - crystalline tone, pristine fingerwork and clarity of thought - and they make a compelling partnership. Their reading of Faure's famous Dolly suite is utterly unsentimental and all the better for it." (Gramophone Magazine)
"There is a great deal to enjoy in the playing here: Desert and Strosser are a finely honed, highly disciplined team and I felt they came to life especially well in the more jaunty moments that punctuate the recording...Their articulation is enchantingly crisp...and in all these movements the duo employs a healthy amount of whimsy sustained by a nicely unified leggiero touch." (International Record Review)
Claire Désert, piano
Emmanuel Strosser, piano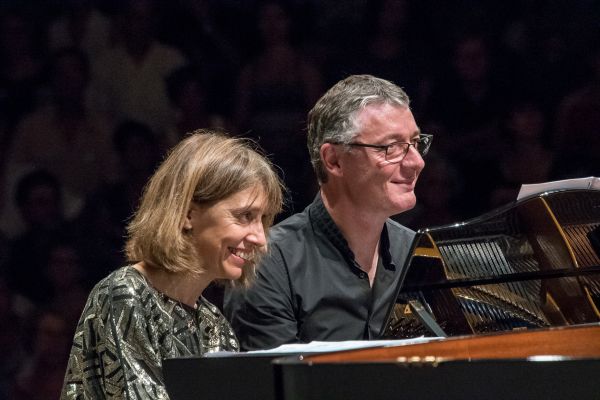 Claire Désert
seduces her audience with her graceful, profound and humble interpretations. She is in the line-up of important French and international festivals, and she regularly performs with important symphonic orchestras. At 14, she entered the Paris Conservatoire and graduated with a First Prize in chamber music in Jean Hubeau's class and a unanimous First Prize in piano in Venislav Yankoff's class. She was recognized at an early age and the French government selected her to pursue her studies at the Moscow Tchaïkovski Conservatory, in Evgeni Malinin's class.
Claire Désert is an exceptional artist and a World-class chamber musician. Her favorite partners are pianist Emmanuel Strosser, cellist Anne Gastinel, violonists Philippe Graffin and Tedi Papavrami, the Quatuor Sine Nomine and the Quintette Moraguès.
The music press always notices her recordings and awards them with prestigious distinctions. Her first disc received a « 10 » from Répertoire. The recording of Scriabine and Dvorak's concertos with the Orchestre Philharmonique de Strasbourg received an award at the French Victoires de la Musique in 1997.
For the label Mirare, Claire Désert recorded Schumann's Davidsbündlertänze, Dvorak Slavonic Dances in four hands with Emmanuel Strosser; and in 2010, her recording « Abendmusik » dedicated to Clara Schumann, Robert Schumann and Johannes Brahms is warmly praised by the international press. In Autumn 2011, she released a new CD dedicated to French chamber music for Naive with Anne Gastinel which was awarded with a « Choc » from Classica and selected by the BBC Magazine « Music Chamber Choice. »
Emmanuel Strosser
« A poet of the piano » (Pianiste magazine), Emmanuel Strosser, famous pianist of his generation, performed as a soloist and as part of chamber music ensembles on international stages such as Wigmore Hall, the London Royal Academy, the Seoul LG Art Center, the Cité de la Musique, Salle Gaveau. Every year, he is on tour in Japan, Canada, South America…
In his repertoire, he carries a predilection for Mozart, Beethoven, Brahms, Schubert, Debussy, Chabrier… Besides his recitals, chamber music is an important part of his career and he regularly shares the stage with Vladimir Mendelssohn, Raphaël Oleg, Olivier Charlier, Régis Pasquier, Xavier Phillips, Sung-Wong Yang, Romain Guyot, François Leleux, the Quatuor Prazak and the Trio Owon…
Originally from Strasbourg, Emmanuel Strosser followed the teachings of Jean-Claude Pennetier and Christian Ivaldi at the Paris Conservatoire before perfecting his techniques with Leon Fleisher, Dimitri Bashkirov and Maria Joao Pires. In 1991 he was a finalist at the Clara Haskil International Piano Competition, he also won the Florence International Chamber Music Competition.
He took part in many recordings which were all praised by the critics. His last CDs recorded by Mirare include one in piano four-hands with pianist Claire Désert dedicated to Dvorak's Slavonic Dance, and another solo recording dedicated to Schubert and published for the Folles Journées in Nantes in 2008. His last album published in 2010 includes Emmanuel Chabrier's works for piano solo.
His last record with Claire Désert "L'Enfance" has just been released for Mirare and was already awarded 4 stars by Classica and 5 "Diapasons."
Moreover, Emmanuel Strosser teaches piano at the Paris Conservatoire and is also a teacher of chamber music at the Lyon Conservatoire.

Booklet for Fauré, Bizet, Debussy, Ravel: L'enfance