---
Album info
Album including Album cover Booklet (PDF)
Claude Debussy (1862 - 1918):

1

Syrinx, L. 129 (Arr. for Flute and Piano)

03:11

2

Beau soir, L. 6 (Arr. for Flute and Piano)

02:37

3

Ariettes oubliées, L. 60: II. Il pleure dans mon cœur (Arr. for Flute and Piano)

02:36

4

Bilitis, six épitaphes antiques, L. 131: I. Pour invoquer Pan, dieu du vent d'été (Arr. for Flute and Piano)

02:31

5

Bilitis, six épitaphes antiques, L. 131: II. Pour un tombeau sans nom (Arr. for Flute and Piano)

03:45

6

Bilitis, six épitaphes antiques, L. 131: III. Pour que la nuit soit propice (Arr. for Flute and Piano)

02:07

7

Bilitis, six épitaphes antiques, L. 131: IV. Pour la danse aux crotales (Arr. for Flute and Piano)

02:35

8

Bilitis, six épitaphes antiques, L. 131: V. Pour l'Egyptienne (Arr. for Flute and Piano)

03:25

9

Bilitis, six épitaphes antiques, L. 131: VI. Pour remercier la pluie du matin (Arr. for Flute and Piano)

01:51

10

2 romances, L. 78: I. L'âme évaporée (Arr. for Flute and Piano)

02:03

11

Ariettes oubliées, L. 60: V. Aquarelles I. Green (Arr. for Flute and Piano)

02:46

12

Violin Sonata, L. 140: I. Allegro vivo (Arr. for Flute and Piano)

04:55

13

Violin Sonata, L. 140: II. Intermède. Fantasque et léger (Arr. for Flute and Piano)

04:22

14

Violin Sonata, L. 140: III. Finale. Très animé (Arr. for Flute and Piano)

04:56

15

Nuit d'étoiles, L. 4 (Arr. for Flute and Piano)

02:46

16

Ariettes oubliées, L. 60: III. L'ombre des arbres (Arr. for Flute and Piano)

02:47

17

Prélude à l'après midi d'un faune, L. 86 (Arr. for Flute and Piano)

09:52

Total Runtime

59:05
Info for …un flot antique de lumière…

In September 2016, Frédéric and I took up the opportunity to play and record with a magnificent Steinway piano from 1952 which had belonged to the Tibor Varga foundation, in a dream-like place immersed in nature. It seemed fitting to celebrate our 15 years of artistic collaboration with Claude Debussy, a composer who was the genesis of our first encounter.
Poetry is the common thread. This recording is a homage, as much to the illustrious french composer as to the poets who inspired him.
Gionata Sgambaro, flute
Frédéric Vaysse–Knitter, piano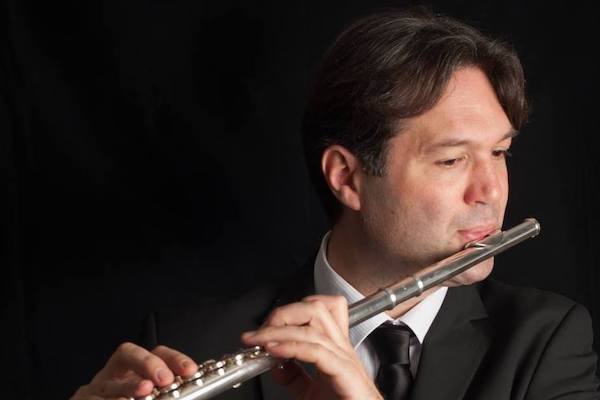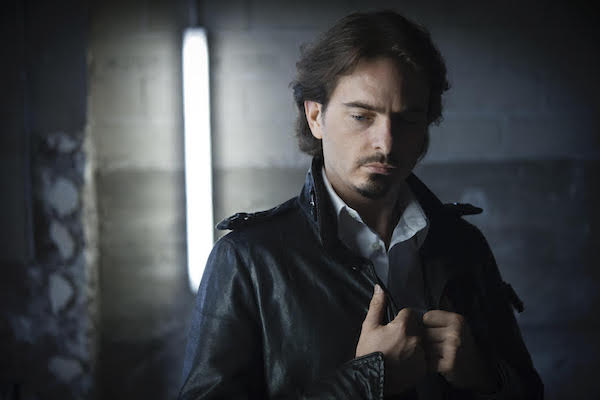 Gionata Sgambaro
perform an ample repertoire, from the creation of new music, to the interpretation historically informed on ancients instruments. He shares the stage with internationally renowned artists, alternating between research, creation, interpretation and improvisation.
Since 2003 he is principal flute of Les Siècles, orchestra conducted by François - Xavier Roth, with which he has participated in numerous recordings (Mirare, Les Siècles Live -Actes Sud, Harmonia Mundi).
He is also principal flute of the Dresdner Festspielorchester and of the München Opernfestspielorchester (dir I. Bolton).
He currently works in the same role with numerous orchestras such as the French National Orchestra, the Rotterdam Philharmonic Orchestra, the Lyon National Orchestra, the Nouvelle Acquitaine Orchestra, the Bretagne Symphony Orchestra, the Auvergne Orchestra and he has also collaborated with the Strasbourg Philharmonic Orchestra, the Lyon National Orchestra, the Instrumental Ensemble and Vocal Ensemble of Lausanne, La Chambre Philharmonique, the Gaeschinger Cantorey - Stuttgart, working with conductors such as Neeme Järvi, Emmanuel Krivine, Philippe Herreweghe, Ton Koopman, Vladimir Ashkenazy, Ivan Fischer, David Robertson, Claus Peter Flor, Michel Corboz, , Jun Märkl, Arie van Beek, Philippe Bernold, Jean François Hesser, Hans Christoph Rademann, ...
He performs with pianists François Dumont, Frédéric Vaysse-Knitter, Alexandre Léger, Eric Le Sage, Franck Braley, Samuele Sgambaro, the harpsichordists Kenneth Weiss, Elisabetta Guglielmin, Emmanuel Rousson, the organists Daniel Roth, Ghilain Leroy, the harpists Valéria Kafelnikof and Aurélie Saraf, the guitarist Caroline Delume, the cellists Frédéric et Florent Audibert, Helène Dautry, the violinists Oswald Sallaberger, Jan Orawiec, Catherine Jacquet, the percussionist Claudio Bettinelli, the string quartets Béla, Cambini, Van Kuijk, Voce, the ensembles L'Instant Donné, Calliopée, La Maison Illuminée, United Intruments of Lucilin and Les Solistes des Siècles.
He has performed in some of the most important theaters around the world: Concertgebouw in Amsterdam, Carnegie Hall in New York, Victor Albert Hall (BBC Proms), Berlin Philharmonic, Paris Philharmonic, Théâtre des Champs Elysées, Théâtre du Châtelet, Salle Pleyel, Cologna Philharmonic, Essen Philharmonic, Würzburger Residenz, Seattle Benaroya Hall, Geneva Victoria Hall, Vicenza Olympic Theater , Scuola Grande di San Rocco in Venice, Auditorium Parco della Musica in Rome, Dresden Semperoper, Munich Prinzregententheater, San Sebastian Kursaal, Glocke - Bremen Konzerthaus ...
As soloist, accompanied by several orchestras - Les Siècles, the Symphony Orchestra of Eskisehir (Turkey), the Orchestra of Bolzano and Trento - he has interpretated the concertos of Bach, Mozart, Telemann, Vivaldi, Tartini, Albinoni, Devienne, Rodrigo, Bernstein.
He has made numerous recordings awarded by international critics, the television series Presto! for France 2, available on DVD, and some radio broadcasts for France Musique.
Gionata is Director of Studies at the Bourgogne-Franche-Comté Music School after teached flute and chamber music at Le Pont Supérieur - Pôle d'Enseignement Supérieur Bretagne - Pays de la Loire (France). He is a member of the juries of the Paris and Lyon CNSMD.
As composer he feeds his reflections by frequenting artistic personalities such as Bruno Gripari, Martin Matalon, Stefano Gervasoni, Vincent Carinola, Kasra Emampour. Its catalog currently includes a dozen instrumental and vocal pieces, performed at the CRR in Rennes, the Carrière de Normandoux (Poitiers), the vocal festival Festicantus de Bourg en Bresse, the Karlsruhe Hochschule, the Chartres and Rennes' Theatres.
Gionata Sgambaro studied at the Conservatory of Vicenza, Flute (Antonio Carraro) and Composition (Paolo Giuliani), at the National Conservatory of the Rueil-Malmaison / Paris Region (Philippe Pierlot, Jean Michel Damase), at the National Conservatory of Music and Dance of Lyon (Philippe Bernold, Robert Thuillier, Sergio Menozzi, Jean Louis Capezzali), at the Geneva School of Music (Serge Saitta, Jean Yves Haymoz), at the Faculty of Letters and philosophy of the University of Padua, and to the other great flutists that he attended: Aurèle Nicolet, Jean Pierre Rampal, Glauco Cambursano, Alain Marion, Raymond Guiot, Maxence Larrieu, Emmanuel Pahud, Barthold Kuijken.
Frédéric Vaysse-Knitter
is clearly following in the tradition of Chopin, Debussy and Liszt. Starting with the first book of Debussy's Images, he achieved a shocking, almost physical beauty, ringing with boundless clarity. (…) The power, gravitas and harmonic richness of his interpretation [of Liszt's Funérailles] cannot fail to impress, as Vaysse-Knitter elicits from this solemn work a diversity of sound that would rival a grand symphony orchestra. Then finally, there is Debussy's Poisson d'or (…), fluidly played, with the delicate touch of overwhelming virtuosity. » Bruno Serrou (June 2016)
Every descent into the self is also an ascension, an assumption, a glance toward the true external reality. » This quote from Novalis perfectly expresses the quintessence of Vaysee-Knitter's nature – his playing is characterised by an extreme intensity and sense of vital urgency that grips the listener, as the piano under his hands sings melodies of introspection and transcendence.
This duality partly explains the fascination that the music of Karol Szymanowski holds for him: For several years, Vaysse-Knitter has devoted himself to Szymanowski's entire piano oeuvre, as well as to the works of his contemporaries, yet all the while, he has remained particularly attached to modern day music. His Szymanowski solo recording was highly regarded among classical music publications, receiving 4 stars from Fonoforum, 5 stars from Piano News and a « Maestro » rating from Pianiste. Similarly, his subsequent album Szymanowski-Stravinsky (released by Aparté), which he recorded with violinist Solenne Païdassi was awarded a « Choc » by Classica, their highest recommendation, as well as 5/5 by Diapason and 10/10 by Klassik Heute. The merits of Vaysse-Knitter's discography, which includes recordings of Chopin, Liszt, Haydn and Dvořák, have long been recognised, not least by a « Prix Jeunesse » from Adami and a « Grand Prix » from the Académie Charles Cros.
He has also been invited to perform in such prestigious venues as the Théâtre des Champs-Elysées and the Cité de la Musique in Paris, the Herkulesaal in Munich, the Royal Concertgebouw in Amsterdam and auditoriums in Grenada, Murcia and Monterrey in Mexico. He has also played at numerous festivals, such as the Festival de Musique de Menton, the Festival Radio France in Montpellier, the Lille Piano(s) Festival and the first Adelaide French Festival as well as at locations as varied as Lazienki in Warsaw, Weimar and Osaka.
He has played under the direction of Sir John Eliot Gardiner, Arie Van Beek, Stéphane Cardon, Diego Matheuz, Jean-François Verdier and Benjamin Lévy, and with orchestras such as the Colonne Orchestra, the Simon Bolivar Youth Orchestra, the Orchestre d'Auvergne and the Orchestre de l'Opéra National de Paris.
Apart from co-performing regularly with Alexandre Tharaud, Solenne Païdassi, cellists Xavier Philips and Sébastien van Kuijk, quartet Diotima and jazz pianist Guillaume de Chassy, Vaysse- Knitter also takes part in programmes that combine music and literature. As part of such ventures, he has collaborated with Catherine Jacob, Nicolas Vaude and François Morel, among others.
He was trained in the grand tradition of the piano institutes of France, Poland and Germany. He entered the National Conservatory of Music and Dance in Paris at the age of thirteen, where he was awarded a « Premier Prix » diploma for piano and chamber music, having spent his time there honing his craft.
He then had a decisive encounter with pianist and conductor, Krystian Zimerman, who gave him advice and guidance in choosing his path. He went on to the University of Music in Freiburg, and obtained a diploma as a soloist. Finally, he perfected his skills with such musical authorities as György Sebők, Alexis Weissenberg, Alicia de Larrocha and Leon Fleisher at the prestigious International Piano Academy Lake Como. These encounters had a lasting effect on Vaysse-Knitter, each one marking him in a particular way. He was profoundly influenced by Sebők's philosophical, spiritual approach to music, Weissenberg's telluric power of interpretation, de Larrocha's attention to vocal lines and Fleischer's great thought leadership.
Awarded a « Révélation Classique » by Adami, and then laureate of the Festival Juventus, Frédéric Vaysse-Knitter came to the attention of Maria João Pirès, who invited him to play at the Lille Piano(s) Festival for the first time.
Since then, he has been a frequent figure on the sets and studios of France Télévision, the BBC, TVP Polonia, Radio Classique, France Musique and Bayerischer Rundfunk.
Frédéric Vaysse-Knitter is the founder and artistic director of two festivals : on one hand the Festival A Tempo (Lavaur, Tarn), and on the other Les Conversations musicales (Villefranche-sur-Mer, Alpes Maritimes), whose first edition will take place in July 2018.

Booklet for …un flot antique de lumière…