---
Album info
Album including Album cover Booklet (PDF)
Giovanni Battista Pergolesi (1710 - 1736): Stabat Mater, P. 77:

1

Pergolesi: Stabat Mater, P. 77: I. Stabat Mater dolorosa

04:02

2

Pergolesi: Stabat Mater, P. 77: II. Cuius animam gementem

01:46

3

Pergolesi: Stabat Mater, P. 77: III. O quam tristis

02:05

4

Pergolesi: Stabat Mater, P. 77: IV. Quae maerebat et dolebat

01:58

5

Pergolesi: Stabat Mater, P. 77: V. Quis est homo

02:25

6

Pergolesi: Stabat Mater, P. 77: VI. Vidit suum dulcem natum

03:05

7

Pergolesi: Stabat Mater, P. 77: VII. Eia, mater, fons amoris

01:58

8

Pergolesi: Stabat Mater, P. 77: VIII. Fac ut ardeat cor meum

02:01

9

Pergolesi: Stabat Mater, P. 77: IX. Sancta Mater, istud agas

04:42

10

Pergolesi: Stabat Mater, P. 77: X. Fac, ut portem Christi mortem

03:30

11

Pergolesi: Stabat Mater, P. 77: XI. Inflammatus et accensus

02:03

12

Pergolesi: Stabat Mater, P. 77: XII. Quando corpus morietur

05:03

Antonio Vivaldi (1678 - 1741): In furore iustissimae irae, RV 626::

13

Vivaldi: In furore iustissimae irae, RV 626: I. Aria. In furore iustissimae irae (Allegro)

04:11

14

Vivaldi: In furore iustissimae irae, RV 626: II. Recitativo. Miserationum Pater piisime

00:43

15

Vivaldi: In furore iustissimae irae, RV 626: III. Aria. Tunc meus fletus (Largo)

07:03

16

Vivaldi: In furore iustissimae irae, RV 626: IV. Alleluia (Allegro)

01:31

Antonio Vivaldi: Concerto for Violin, Oboe and Organ in C Major, RV 554a:

17

Vivaldi: Concerto for Violin, Oboe and Organ in C Major, RV 554a: I. Allegro

04:29

18

Vivaldi: Concerto for Violin, Oboe and Organ in C Major, RV 554a: II. Adagio

03:21

19

Vivaldi: Concerto for Violin, Oboe and Organ in C Major, RV 554a: III. Allegro

03:22

Antonio Vivaldi: Stabat Mater, RV 621:

20

Vivaldi: Stabat Mater, RV 621: I. Stabat Mater

02:55

21

Vivaldi: Stabat Mater, RV 621: II. Cuius animam

01:29

22

Vivaldi: Stabat Mater, RV 621: III. O quam tristis

01:42

23

Vivaldi: Stabat Mater, RV 621: IV. Quis est homo

02:39

24

Vivaldi: Stabat Mater, RV 621: V. Quis non posset

01:51

25

Vivaldi: Stabat Mater, RV 621: VI. Pro peccatis

01:41

26

Vivaldi: Stabat Mater, RV 621: VII. Eja Mater

03:33

27

Vivaldi: Stabat Mater, RV 621: VIII. Fac ut ardeat

01:24

28

Vivaldi: Stabat Mater, RV 621: IX. Amen

00:58

Total Runtime

01:17:30
Info for Pergolèse & Vivaldi: Stabat Mater pour deux castrats

Two countertenors for Pergolesis Stabat Mater: this is the resurrection of the first performance in France of this work, introduced by two Italian Castratos from the Royal Chapel of Louis XV, who were enthusiastic propagators of it both at Court and at the Concert Spirituel. Paris was conquered and saw in it the revolutionary mark of a Neapolitan genius, who alas passed away so young. Pergolesi, shortly before his death at the age of 26 and affected by illness, expressed the Virgins suffering with the language of passion more typical of opera. The Stabat Mater, first performed in 1736, is one of the emblematic works of the baroque and had a profound effect on the musical world of the 18th century. To give full splendor to the sumptuous duet of angelic voices lamenting the pain of Mary at the foot of the Cross, two performers are required who blend their timbres, like the two Neapolitan castratos for whom this music was composed. The brilliant sopranist Samuel Marino and the no less brilliant counter tenor Filippo Mineccia form the exceptional duo for this programme of emotion and virtuosity.
Samuel Mariño, soprano
Filippo Mineccia, alto
Orchestre de l'Opéra Royal
Marie Van Rhijn, direction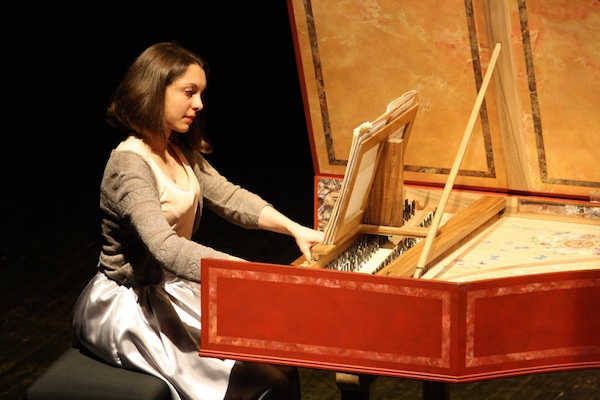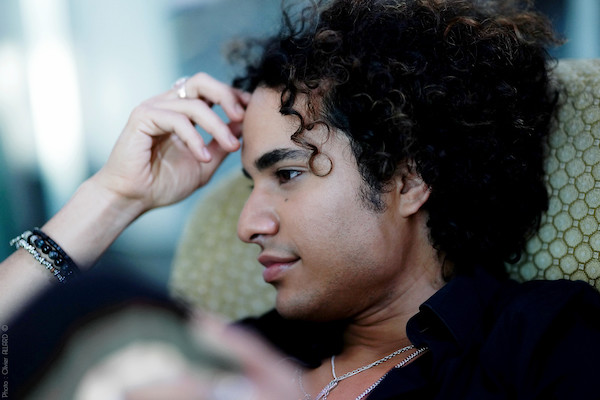 Marie van Rhijn
Attracted by the sound and style from an early age, Marie van Rhijn started playing the harpsichord at the age of seven in Calais. As a soloist and in various groups, she has been invited to perform on stage and at internationally acclaimed festivals in many countries: Austria, Belgium, Bolivia, Brazil, France, Italy, Norway, Netherlands, Republic Czech, Romania, United Kingdom and Switzerland. Concentrating on the « sociable » character of her instrument, she particularly appreciates working in chamber music ensembles and founded the Trio Dauphine with Maud Giguet and Clara Izambert, gaining several awards very positive reviews after two CD recordings with Arion and Evidence Classics in 2012 and 2014.
Her training lead her to Seventeenth Arrondissement Paris Conservatory where she prepared with Ilton Wjuniski her admission to the Conservatoire National Supérieur de Musique et de Danse de Paris, where she obtained with highest honours the Master Harpsichord (studying with Olivier Baumont) and basso continuo (studying with Blandine Rannou) and Master of Education and Certificate of aptitude for education. She holds Master of Musicology from the Sorbonne and a vocal coach diploma. She was the recipient of the Adami, the SYLFF Tarrazi and foundations and the Musical Patronage of Société Générale. In masterclasses, she benefited from the valuable advice of Huguette Dreyfus, Christophe Rousset, Mitzi Meyerson, Kenneth Weiss, Noëlle Spieth. Distinguished in several international competitions in France, the UK, the Netherlands, Austria and Russia, she was also selected for the l'Orchestre Français des Jeunes Baroque (French Youth Orchestra Baroque) for the seasons of 2011 and 2012, as well as by Emmanuelle Haim for the Académie Handel at the Aix en Provence Festival in 2015 and by Laurence Cummings to be part of the six young soloists in residence at the Handel House in London in 2014 and 2015.
Curious and passionate, she shares her pleasure generously on stage and in her teaching. After working for the Early Music Department of the Royal College of Music in London, she now holds the qualification for artistic education and has taught since 2014 at the Conservatoire à Rayonnement Régional de Cergy Pontoise.
Cultivating her multifaceted career, she explores vocal repertoire with joy as vocal coach and in continuo for the ensemble Les Arts Florissants, conducted by William Christie and Paul Agnew, and also for the ensemble Pages at the Centre de Musique Baroque de Versailles and the Centre d'Art Vocal and of Musique Ancienne in Namur.
Samuel Mariño
The Venezuelan male soprano Samuel Mariño's unique, brilliant, agile, and sparkling voice, paired with his musical expertise, enable him to undertake the most demanding forms of the classical vocal repertoire.
Born in 1993, Samuel began his studies in piano and voice at the National Conservatory in Caracas, also studying ballet at the National School of Dance in Venezuela. His first operatic experience was with the Camerata Barroca in Caracas, where he had the opportunity to work with conductors such as Gustavo Dudamel, Helmuth Rilling, and Theodore Kuchar. It was there that his passion and affinity for the baroque repertoire was ignited, inspiring him to further his studies at the Conservatoire de Paris. He is currently closely mentored by the renowned soprano Barbara Bonney and the recipient of a scholarship by the Rotary Club of Salzburg. At his young age, Samuel Mariño has already portrayed some of the most monumental roles in baroque and classical opera and oratorio, including works by Monteverdi, Handel, Porpora, Vivaldi, Hasse, Mozart, and Salieri.
His 2018/19 season included performances of Bach's B-minor Mass in Budapest, Handel's La Resurrezione (Angelo) in Gießen, Gluck's Angigono (Demetrio) in Bayreuth, Cimarosa's Gli Orazi e id Curiazi (Curazio) in Rhiensburg, Angesi's Il Re Pastore in Kattowitz, in addition to gala concerts in Halle, where he portrayed Cherubino, Maria from West Side Story, and Fiorilla from Il Turco in Italia. His versatility and ample vocal range have enabled the male soprano to explore such roles in the Bel Canto repertoire as Oscar (Verdi's Un Ballo in Maschera), Romeo (Bellini's I Capuleti ed I Montecchi), and Arsace (Rossini's Aureliano in Palmira).
In the 2017/18 season, he won the interpretation award in the International Singing Competition with Opéra de Marseille as well as the audience prize in the Neue Stimmen Competition. Shortly thereafter in 2018, he made his stage debut at the Handel Festival in Halle, performing the role of Alessandro in "Berenice" to great success, being nominated by the magazine OpernWelt as the "Best Revelation Artist." ​
Following his passion for rediscovering music and innovating period performance practice, Samuel founded Ensemble Teseo in 2019, where he aims to bring forgotten baroque techniques and works to the mainstream operatic and concert stages.

Booklet for Pergolèse & Vivaldi: Stabat Mater pour deux castrats