---
Album info
Album including Album cover Booklet (PDF)
Lera Auerbach (b. 1973): Suite for Theremin & Piano (10 Preludes from Op. 41):

1

Suite for Theremin & Piano (10 Preludes from Op. 41): No. 1, Andante

03:41

2

Suite for Theremin & Piano (10 Preludes from Op. 41): No. 2, Andante misterioso

02:35

3

Suite for Theremin & Piano (10 Preludes from Op. 41): No. 3, Andante tragico

02:35

4

Suite for Theremin & Piano (10 Preludes from Op. 41): No. 4, Vivace ma non troppo e poco agitato

01:36

5

Suite for Theremin & Piano (10 Preludes from Op. 41): No. 5, Grave

02:34

6

Suite for Theremin & Piano (10 Preludes from Op. 41): No. 6, Adagio sognando

01:45

7

Suite for Theremin & Piano (10 Preludes from Op. 41): No. 7, Adagio

05:05

8

Suite for Theremin & Piano (10 Preludes from Op. 41): No. 8, Allegro appassionato

01:18

9

Suite for Theremin & Piano (10 Preludes from Op. 41): No. 9, Andante nostalgico

04:15

10

Suite for Theremin & Piano (10 Preludes from Op. 41): No. 10, Adagio sognando

03:05

Joseph Schillinger (1895 - 1943):

11

Bury, Bury Me Wind

06:26

Lydia Kavina (b. 1967): Suite for Theremin & Piano:

12

Suite for Theremin & Piano: I. Andante

04:12

13

Suite for Theremin & Piano: II. Moderato

02:06

14

Suite for Theremin & Piano: III. Lento

03:24

Valery Beluntsov (b. 1969):

15

Fantasy for Theremin, Xylophone & Piano

10:34

Olesya Rostovskaya (b. 1975):

16

Juliet

04:36

Total Runtime

59:47
Info for Air électrique: Original Music for Theremin & Piano

Spooky sounds and ghostly wailings are usually what come to mind when people imagine the sound of the theremin. With "Air Électrique", Thorwald Jorgensen and Kamilla Bystrova go beyond the novelty of the theremin and let the music speak for itself. With the premier recording of Lera Auerbach's "10 Preludes for theremin and piano", the standard of the album is set. This compositional tour-de-force presents colourful melodic music which exploits the unique characteristics of both the theremin and the piano. The angular modernism of Lydia Kavina's "Suite for theremin and piano" and Olesya Rostovskaya's haunting "Juliet" show more of the theremin's unrivalled sonic possibilities, clearly illustrating what is possible with this combination of instruments. The album also presents two chamber music pieces. The first is the world premiere of Joseph Schillinger's "Bury, Bury me Wind", in which Thorwald and Kamilla are joined by mezzo soprano, Itzel Medecigo. The other is the spectacular "Fantasy for theremin, xylophone and piano" by Valery Beluntsov, in which Thorwald plays not only the theremin but also the virtuosic xylophone part. All in all "Air Électrique" is an album for both lovers of the theremin and piano, and lovers of music in general.
Thorwald Jørgensen, theremin
Kamilla Bystrova, piano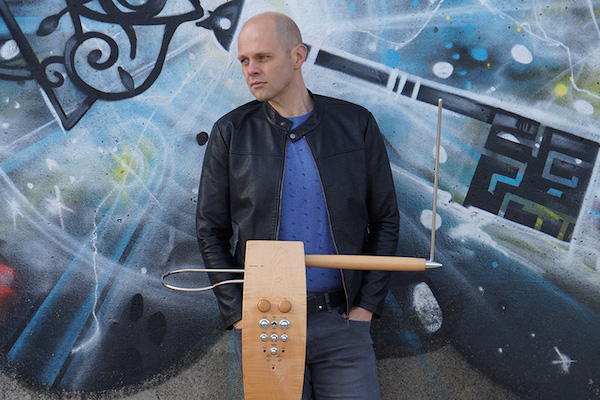 Thorwald Jørgensen
is known as one of the leading classical theremin players in the world. After graduating from the conservatory he quickly established himself as one of the most prominent players of the instrument and made full time career of playing the instrument. Since the playing technique also resembles that of a string instrument, Thorwald was coached by Saskia Boon, former cellist with the Royal Concertgebouw Orchestra. ​
Having a busy concert schedule, Thorwald has played to great reviews as a chamber musician, soloist and orchestral thereminist in Europe, both North and South America, Asia, Australia, Canada and Russia. A remarkable highlight was the Dutch premiere of the theremin concertino by Anis Fuleihan.
Besides these concerts Thorwald also performed for radio and television and played at festivals, like Ravinia Festival (USA) Festival Classique (NL), Bach Festival (NL), Without Touch (DE) Hands Off (UK), Klassifest (NL), Node (CH), Music and Beyond (CA), Festival Electromagnética Santiago (CL), Klarafestival (BE), Fête de la Musique (CH), MAGFestival (HRV), Lunigiana International Music Festival (IT) International Film Festival Rotterdam / IFFR (NL) Gaudeamus Music Week (NL), November Music (NL), Wonderfeel (NL), Ars Musica (BE), Albury Chamber Music Festival (AU) New Music Festival Montréal (CA) and the Thereminology Festival in Moscow and St Petersburg (RU). He was also invited as a guest teacher/lecturer/performer at renowned institutions like the Conservatory of Amsterdam, Rotterdam, St. Petersburg (RU), Nizhny Novgorod (RU), Stanford University (USA) and Harvard University (USA) and the University of Havana (CU) ​
Thorwald played as a soloist with numerous orchestras around the world, like Philharmonie Zuid-Nederland, Brussels Philharmonic, Cyprus Symphony Orchestra, Norrköping Symphony Orchestra, Opera2Day, kammerphilharmonie bremen, Eskişehir Symphony Orchestra, Dutch Theatre Orchestra, Antalya Symphony Orchestra, Ottawa Chamber Players, Antwerp Symphony Orchestra, Boston Philharmonic Orchestra, Royal Chamber Orchestra of Wallonie, Bursa State Symphony Orchestra, KODA Chamber Orchestra, Royal Stockholm Philharmonic, Bremer Philharmoniker and the Presidential Symphony Orchestra of Turkey. ​
As a chamber musician Thorwald works together with both pianist Kamilla Bystrova and the Utrecht String Quartet. A highlight was the world premiere of Canadian composer Simon Bertrand "The Invisible Singer - an album for theremin and string quartet" , performed during the Gaudeamus Music Week in the Netherlands. ​
Thorwald is an advocate for new theremin repertoire and composers from all over the world have written pieces for him. Recently Thorwald also started composing himself, resulting in several solo pieces for theremin. His first composition Distant Shores for theremin, voice and loop-station was an instant success and was recorded for TV and radio in Canada, Croatia, Turkey, Australia, Russia, USA and the Netherlands.
Kamilla Bystrova
was born in Moscow and began studying piano with her mother, a music professor. She is a graduate of the famous piano school founded by Heinrich Neuhaus, who taught Sviatoslav Richter, Emil Gilels and Radu Lupu. She earned a Master's degree from the Conservatory of St. Petersburg and went on to perform with the Moscow Philharmonic Society across Europe. She attended master classes of Emanuel Ax, Mstislav Rostropovich and Ruth Nye.
After she received another Master's degree from The Hague's Royal Conservatory with Naum Grubert, Bystrova was invited to join the faculty, and performed as a soloist and with chamber ensembles. In 1992, she won The Link Prize for her performance of Pictures At An Exhibition. 


She has transcribed songs by Schumann and Tchaikovsky, and has recently expanded the repertoire by adapting Schubert's Winterreise for solo piano. Her performance of this new work will be released soon.

In addition to her busy teaching and performing schedule, Bystrova paints, draws and sculpts. Her work can be found in private collections. An avid outdoors enthusiast, she enjoys hiking and skiing.


Booklet for Air électrique: Original Music for Theremin & Piano