---
Album info
Album including Album cover Booklet (PDF)
1

Homeland

06:57

2

Familiar Feelings

11:44

3

Exciting

03:23

4

Soulful Moments

07:15

5

Long Ago

09:53

6

Meet Old Friends

02:22

7

Forgotten Love

04:35

8

So Many Moods

06:10

9

Zufriedenheit ist der Weg zum Glück

03:44

10

Forced To Flee My Homeland

03:01

11

Your Tears Will Dry

02:46

12

Happiness

02:50

Total Runtime

01:04:40
Info for Homeland

Piano music that touches your soul – Bathe in the sound! Perfectly recorded with a "Bösendorfer Imperial" grand piano of wonderful and charismatic sound.
Info for Track "Forced To Flee My Homeland" All sounds were exclusively achieved with the grand piano by damping individual piano strings. Highend Dynamic Range DR12!
This album is an emotional, passionate and profound tribute to my homeland. Yet I do not want to speak just for myself with my music. Every person has a homeland and connects with it very personal memories and feelings.
Unfortunately a lot of people cannot live in their homeland or return to it at any time without any danger. The present floods of refugees speak for themselves. With regards to current events, I dedicate my compositions "FORCED TO FLEE MY HOMELAND" and "YOUR TEARS WILL DRY" to all refugees, who had to or still have to leave their homeland for various reasons.
This recording was made in the legendary MPS-Studio in Villingen with a "Bösendorfer Imperial" grand piano which sounds wonderful. Amongst others Friedrich Gulda and Oscar Peterson recorded their much acclaimed albums here.
Martin Vatter, piano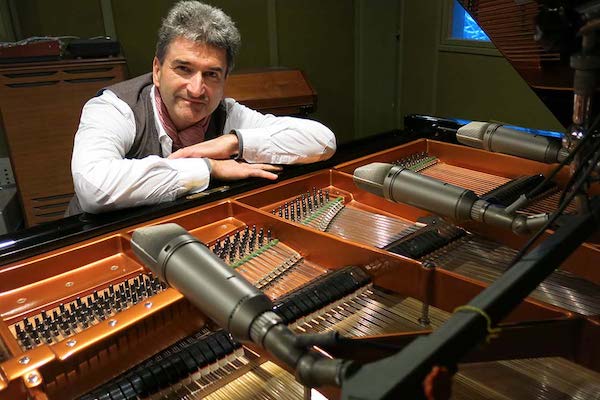 Martin Vatter
Discover piano music that touches your soul ...
Pianist Martin Vatter has developed the ability of merging his soul with that of his instrument. So it is no wonder that his music reflects both his passion for the piano and his highly individualistic nature. His entire personality is directly translated into an espressive, powerful, as well as sensitive and sensual style of playing. The elements of his music are just as diversified as the broad spectrum of the soul. A music that is not easy to classify, yet: The carisma or his passion can hardly elude the listeners, who will know that they are hearing something very special.
Martin Vatter comes from a musical family. His mother is an organist, his father plays the violin. He received his first piano lessons at the age of nine and played exclusively works by classical composers. He gets the decisive inspiration in 1985 from "The Köln Concert" by Keith Jarrett. In the following years Martin Vatter consistently develops, refines and perfects his musical "signature" on the piano until today.
Since 1994, the pianist has released numerous CD productions, which have received many awards from the specialist press. He has received portraits on radio and television. His compositions are stylistically located between Keith Jarrett, Tord Gustavsen and Ludovico Einaudi, but also contain many classical elements and thus do not fit into any genre pigeonhole.
Martin Vatter about his music: "I believe, that music from the innermost heart can only be a fusion of all that you have experienced and lived ..."

Booklet for Homeland