---
Album info
Album including Album cover Booklet (PDF)
John Adams (1735 - 1826): Hallelujah Junction:

1

Adams: Hallelujah Junction

17:01

Paul Creston (1906 - 1985): Rumba-Tarantella:

2

Creston: Rumba-Tarantella

02:53

Paul Bowles (1910 - 1999): Night Waltz:

3

Bowles: Night Waltz

04:14

Paul Moravec (b. 1957): Quattro Mani:

4

Moravec: Quattro Mani

06:09

Bent Sørensen (b. 1958): Six Intermezzi:

5

Sørensen: Six Intermezzi: I. Light and infinite (Anette Flensburg)

02:25

6

Sørensen: Six Intermezzi: II.

03:08

7

Sørensen: Six Intermezzi: III. Going Wild (Bjørn Poulsen)

02:14

8

Sørensen: Six Intermezzi: IV. Touchstone (Jesper Christiansen)

04:09

9

Sørensen: Six Intermezzi: V.

03:15

10

Sørensen: Six Intermezzi: VI. Roses in Landscape (Maja Lisa Engelhardt)

02:02

Total Runtime

47:30
Info for Hallelujah Junction

Stellar piano duo Quattro Mani's latest recording features John Adams's ebullient "Hallelujah Junction", and premiere recordings by Paul Moravec and Danish composer Bent Sørensen. Bonus tracks include rarities by Paul Creston and Paul Bowles. Critic Robert Carl writes that "Quattro Mani is one of the most enduring and leading keyboard duos anywhere."
Quattro Mani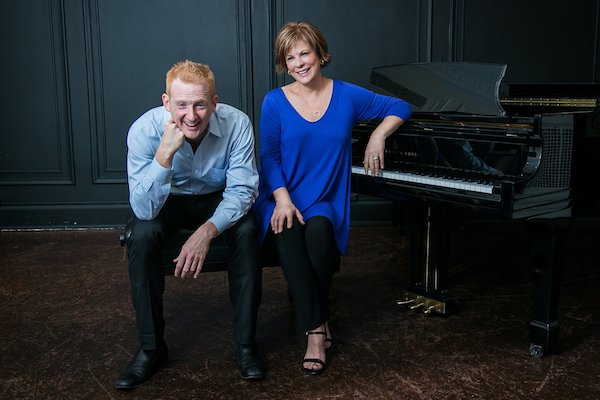 Quattro Mani
Susan Grace and Steven Beck form one of the most dynamic piano duos before today's concert-going public. Quattro Mani's performances and recordings, as well as the duo's collaborations with important composers of our time has led to numerous dedications and premieres of new repertoire, including pieces by George Crumb, Paul Lansky, Tod Machover, Poul Ruders, Tania León, Michael Daugherty and Fred Lerdahl. QM's recent CDs, Lounge Lizards (BRIDGE 9486) and Restructures (BRIDGE 9496) were released to widespread critical acclaim, featuring new works by American and European composers. A third recent disc of Stefan Wolpe's two-piano works, had Fanfare's Robert Carl writing that "Quattro Mani is one of the most enduring and leading keyboard duos anywhere".
Following Quattro Mani's premiere of Paul Lansky's double concerto, Shapeshifters and Fitkin's Circuit with the Austin Symphony, the Austin Chronicle cited their orchestra's performance with Quattro Mani as one of the Top 10 Classical Treasures. Recent QM performances include the Alabama Symphony, Colorado College Intermezzo Series and Summer Music Festival, Colorado Symphony Drum Show, as well as Subculture, Bargemusic, National Sawdust, Weill Recital Hall at Carnegie Hall and Steinway Hall, all in NY, La Labortoire Cambridge, and Curtis Institute in Philadelphia. Quattro Mani records for and is managed by Bridge Records. Quattro Mani's latest recording is due in November of 2021, and includes works by John Adams, Paul Creston, Paul Bowles, Paul Moravec, and Bent Sørensen.
Susan Grace
Grammy nominated pianist, SUSAN GRACE has performed solo and chamber recitals, and has appeared as soloist with orchestras in the United States, Europe, the former Soviet Union, Korea, India and China. She has also performed in the Aspekte Festival in Salzburg, St Paul Chamber Orchestra's new-music series Engine 408, Phillips Collection in Washington, D.C., the Grand Teton Festival, the Cape Cod Music Festival, Festival Mozaic, Concordia Chamber Players, Music at Oxford, and the Helmsley Festival in England. Grace has recorded for Bridge Records, the Belgium National Radio, WFMT in Chicago, the Society of Composers, Wilson Audio, Klavier International and Klavier Music Productions. Her latest recording on the Bridge label of Stefan Wolpe's violin and piano music was listed in the London Sunday Times as one of the top ten Contemporary recordings of 2015 and was also included on the Fanfare "Critics Want List 2016". Grace was nominated for a Grammy in 2005 in the Best Small Ensemble Performance category.
Grace is associate chair, artist-in-residence and senior lecturer in music at Colorado College. She is also music director of the renowned Colorado College Summer Music Festival, now in its 34th season. She was awarded the Christine S. Johnson professorship of music from 2014-16. In June 2014, Mayor Steve Bach and the city of Colorado Springs presented Ms. Grace with the Spirit of the Springs award for her work with the Colorado College Summer Music Festival. She is a Steinway Artist.
Steven Beck
Pianist STEVEN BECK continues to gather acclaim for his performances and recordings. Recent career highlights include performances of Beethoven's variations and bagatelles at Bargemusic, where he first performed the Beethoven sonata cycle. In addition, this season he performs with the Orlando Philharmonic and repeats his annual performance of Bach's "Goldberg Variations" on Christmas Eve at the Barge; this has become a New York institution. Steven Beck is an experienced performer of new music, having worked with Elliott Carter, Pierre Boulez, Henri Dutilleux, Charles Wuorinen, George Crumb, George Perle, and Fred Lerdahl, and performed with ensembles such as Speculum Musicae and the New York New Music Ensemble. He is a member of the Da Capo Chamber Players, the Knights, and the Talea Ensemble. He is also a member of Quattro Mani, a piano duo specializing in contemporary music. Mr. Beck's discography includes Peter Lieberson's third piano concerto (for Bridge Records) and a recording of Elliott Carter's "Double Concerto" on Albany Records.

Booklet for Hallelujah Junction