---
Album info
Album including Album cover Booklet (PDF)
I`m sorry!
Dear HIGHRESAUDIO Visitor,
due to territorial constraints and also different releases dates in each country you currently can`t purchase this album. We are updating our release dates twice a week. So, please feel free to check from time-to-time, if the album is available for your country.
We suggest, that you bookmark the album and use our Short List function.
Thank you for your understanding and patience.
Yours sincerely, HIGHRESAUDIO
André Mathieu (1929 - 1968):

1

Mathieu / Arr. Wastor: Rhapsodie romantique

20:27

Concertino No. 2, Op. 13:

2

Mathieu / Arr. Wastor: Concertino No. 2, Op. 13: I. Allegro

03:17

3

Mathieu / Arr. Wastor: Concertino No. 2, Op. 13: II. Andante

05:42

4

Mathieu / Arr. Wastor: Concertino No. 2, Op. 13: III. Mathieu / Arr. Wastor: Concertino No. 2: II. Allegro

04:25

Concerto No. 3 in C Minor, "Concerto de Québec", Op. 25:

5

Mathieu / Arr. Wastor: Concerto No. 3 in C Minor, "Concerto de Québec", Op. 25: I. Allegro moderato

10:10

6

Mathieu / Arr. Wastor: Concerto No. 3 in C Minor, "Concerto de Québec", Op. 25: II. Andante

13:35

7

Mathieu / Arr. Wastor: Concerto No. 3 in C Minor, "Concerto de Québec", Op. 25: III. Allegro con brio

07:48

Total Runtime

01:05:24
Info for Mathieu: Concerto de Québec & Works for 2 Pianos

Canadian pianist Alain Lefèvre has long championed the music of pianist-composer André Mathieu (1929-1968). As a child prodigy, Mathieu caused a sensation as 'the Canadian Mozart' in New York and Paris (where he studied with Yves Nat and Arthur Honegger), but he eventually died in poverty at the age of just 39. On this album, Lefèvre and fellow pianist Hélène Mercier play three works written by Mathieu in the 1940s. "André Mathieu's music it has its own place in the history of composition," says Lefèvre. "It has been described as Romantic, and obviously was out of step with its own age, but does that really matter today?"
Alain Lefèvre, piano
Hélène Mercier, piano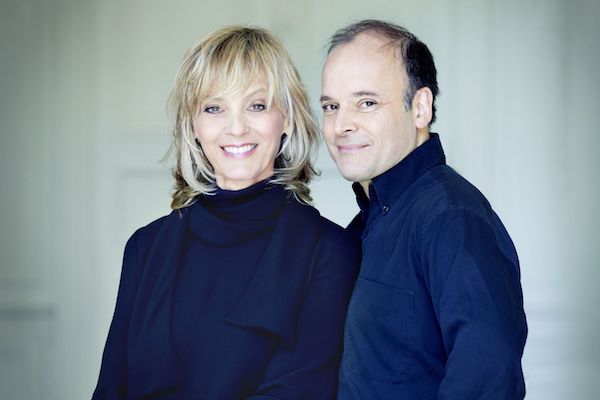 Alain Lefèvre
Hailed as a smashing and arresting virtuoso, a pianist who breaks the mold and who stands out from the typical trends and artifices offered on the international scene, Alain Lefèvre pursues a sparkling career, having performed in over forty countries to prestigious venues such as Carnegie Hall, Kennedy Center, Royal Albert Hall, Royal Festival Hall, Cadogan Hall, Théatre des Champs-Élysées, Théatre du Châtelet, Salle Pleyel, Palais Princier de Monaco, Teatro Colon, Palacio de Bellas Artes, Megaron, Odeon of Herodes Atticus and participated to numerous international festivals including SPAC, Ravinia, Wolf Trap, Athens, Epidaurus, Istanbul , Cervantino, Mozart Plus, Orford Musique, Domaine Forget, Lanaudière and Expo 2010 Shanghaï, to name but a few.
Saluted for his phenomenal technique, his sparkling playing resulting in fascinating interpretations and his sovereign mastery, his dazzling performances were many times described as unequaled and unparalleled. Yet, his humbleness remains disarming, considering himself to be only a "mason of the piano", "solely at the service of the great composers and their music". Author, music journalist and radio host Olivier Bellamy, shared with his listeners on his program broadcasted on Radio-Classique (France), a letter that he addressed to his guest Alain Lefèvre on his latest CD release, « My Paris Years » : " Wilhelm Furtwängler said: " The great art is always modest". This is what I thought when listening to your recording (…)."
Alain Lefèvre has appeared with major symphonic and chamber orchestras worldwide including the Royal Philharmonic, London Mozart Players, Orchestre National de France, Philharmonie de Lorraine, Orchestre Philharmonique de Monte-Carlo, Philadelphia Orchestra, Detroit Symphony, National Symphony (Washington D.C.), Houston Symphony, Buffalo Philharmonic, Florida Orchestra, Pacific Symphony, Orchestra of St-Luke's, Tucson Symphony, Komische Oper Berlin, SWR Stuttgart, Nuremberg Symphony, Staatskapelle Weimar, Wuppertal Symphony, Philharmonie Südwestfalen, Cracow Philharmonic, Slovak Radio Symphony (Bratislava), Athens State Orchestra, Istanbul State Symphony, Presidential State Symphony Ankara, National Symphony Orchestra of Mexico, National Symphony Orchestra of Buenos Aires, Montreal Symphony, Toronto Symphony, National Arts Centre Orchestra, Vancouver Symphony, Winnipeg Symphony, Quebec Symphony, China Philharmonic, Shanghaï Symphony, Guangzhou Symphony, Malaysian Philharmonic, and the Moscow Virtuosi.
He performed amongst others with conductors Matthias Bamert, James Conlon, Franz-Paul Decker, Enrique Diemecke, Charles Dutoit, Christoph Eschenbach, Michael Francis, JoAnn Falletta, Claus Peter Flor, Lawrence Foster, Fabien Gabel, George Hanson, Jacek Kaspszyk, Bernhard Klee, Gérard Korsten, Jacques Lacombe, Cristian Maceralu, Alexander Mickelthwate, Tania Miller, Ludovic Morlot, Kent Nagano, Yannick Nézet-Séguin, Charles Olivieri-Munroe, Adrian Prabava, Jean-François Rivest, Jukka-Pekka Saraste, Scott Speck, Vladimir Spivakov, Carl St-Clair, Nikolaj Szeps-Naider, Yoav Talmi, Robert Trevino, Alain Trudel, Yan Pascal Tortelier, Alexander Shelley, Keri-Lynn Wilson, Long Yu and Jean-Marie Zeitouni.
From the beginning of his career, Alain Lefèvre has included, commissioned and battled for the music of our time. Henri Dutilleux, John Corigliano, Pierre Max Dubois, Walter Boudreau, François Dompierre, Alain Payette and Alexander Brott, are but a few of the composers he worked with and has added to his core repertoire. We owe him the rehabilitation of the forgotten composer and pianist of genius, the "Canadian Mozart", André Mathieu, which works he also revived on stage in New York, Paris, London, Berlin, Shanghaï and many other cities worldwide. He was music director, composer and interpreter for the motion picture: "L'Enfant prodige" (The Child Prodigy), on the life of André Mathieu.
In 2018, Warner Classics signed him as an exclusive recording artist, releasing this year its first title, « My Paris Years », on their prestigious label*.
Mr. Lefèvre is Officer to the Order of Canada, Chevalier of the National Order of Quebec, Chevalier of the Pléiade Order, and also won the prestigious AIB Award held in London, for - International personality of the year - Radio, hosting programs on classical music, broadcasted on ICI Musique, Radio-Canada.
Hélène Mercier
Born in Montreal, Hélène Mercier starts her piano studies at the age of six and quickly wins recognition by getting first honours at the Quebec and Canadian Music Competitions in piano solo and piano-violin. She is also an award winner of the Prague International Chamber Music Competition.
At the age of fifteen, she enters Dieter Weber's class at the University of Music and Performing Arts in Vienna. She later studies at the Juilliard School in New York with Sasha Gorodnitski, after having been awarded a scholarship subsequent to her admissions audition. She then goes to France where she studies under Pierre Sancan of the Conservatoire National Supérieur de Paris, and with Germaine Mounier at the Ecole Normale de Musique. She also works with Maria Curcio, Stanislav Neuhaus, and in chamber music, with Gidon Kremer and Henryk Szeryng during summer sessions.
Hélène Mercier now lives in Paris, and participates frequently in prestigious festivals in France, among which those held in Aix-en Provence, Menton, Colmar, Nohant, Evian, Reims, La Chaise-Dieu, Piano aux Jacobins in Toulouse and Radio-France in Montpellier. She is also heard at France-Musique, Radio Classique, France-Culture, Radio-Suisse-Romande, Radio-Canada and CBS in the USA. In Europe and in North America, she regularly performs as soloist and chamber music player : in Paris at the Théâtre des Champs-Elysées, the Théâtre du Châtelet, the Salle Pleyel and the Salle Gaveau, in London at the South Bank Centre, in Germany at the Konzerthaus of Berlin and at the Gewandhaus of Leipzig, in Brussels at the salle Flagey and the Conservatory, in Italy at the Villa Medici, in Milan at the Teatro Dal Verme, at the Piccolo Teatro and the Conservatory, at the Music Academy of Sienna, in the Teatro Comunale of Ferrara, at the Teatro Verdi in Pisa, at the Lingotto auditorium in Torino...and elsewhere, in Geneva, Monte-Carlo, Athens, Madrid, Moscow, Warsaw, Sofia, Montreal, Quebec, Ottawa, Toronto, Vancouver, and New York. She is also invited to play with several different European and North American orchestras: amongst others, at the Brescia-Bergamo International Festival, in Minneapolis and St. Paul with the Minnesota Orchestra. In Paris, she performs under the direction of Zubin Mehta with the Israël Philharmonic Orchestra and under the direction of Kurt Masur at the Théâtre des Champs-Elysées. She also plays with the Russian National Orchestra conducted by Vladimir Spivakov and in Canada with the orchestras of Vancouver, Toronto, Ottawa and Montreal under the direction of Charles Dutoit. With the Orchestre de Paris, under the direction of Semyon Bychkov, she plays the Triple Concerto of Beethoven with Natalia Gutman and Salvatore Accardo. She performs with the violinist Vladimir Spivakov in Paris, Saint Petersburg, Montreal, at the Festival of Colmar and the Festival of Evian. She performs with the cellist Mstislav Rostropovich in Copenhagen and Paris.
In Japan, she makes her debut with the New Japan Philharmonic under the direction of Seiji Ozawa.
At the request of the conductor Kurt Masur, she joins the Gewandhaus Quartet of Leipzig for a series of concerts. She also performs with the Ludwig Quartet, the Leipzig Quartet, the musicians of the Moscow Virtuosi, with the violinists Ivry Gitlis, Renaud Capuçon, Laurent Korcia, Olivier Charlier and the cellists Gautier Capuçon and Henri Demarquette. Her activities in chamber music flourish as well with the two pianos formation where she plays with different pianists : Louis Lortie, Brigitte Engerer, Cyprien Katsaris, Frank Braley, Bruno Rigutto, Boris Berezovsky…
With Louis Lortie, two recordings with Chandos featuring works of Ravel, Schubert and Mozart have gathered the most outstanding reviews across the world. The prestigious London magazine Gramophone ranked them as among the « TOP SIX » in their Quarterly Retrospect, and the Penguin Guide awarded them the highest distinctions: « The Rosette » and three stars.
With the violinist Vladimir Spivakov, she has recorded a CD dedicated to Ernest Chausson, under the brand "Capriccio". This recording has collected a considerable success both by critics and public and it has received the disk "Choc" of "Le Monde de la Musique".
With Cyprien Katsaris, she just recorded a CD featuring works of Schumann and Brahms.
Hélène Mercier is "Chevalier de l'Ordre des Arts et des Lettres".

Booklet for Mathieu: Concerto de Québec & Works for 2 Pianos