---
Album info
Album including Album cover
Hans Huber (1852 - 1921): Serenade No. 2, Winternächte, WoO:

1

Serenade No. 2, Winternächte, WoO: I. Pastorale (Live)

07:06

2

Serenade No. 2, Winternächte, WoO: II. Spinnlied (Live)

02:09

3

Serenade No. 2, Winternächte, WoO: III. Träumerei (Live)

03:44

4

Serenade No. 2, Winternächte, WoO: IV. Legende (Live)

06:10

5

Serenade No. 2, Winternächte, WoO: V. Karneval (Live)

06:37

Total Runtime

25:46
Info for Serenade No. 2, Winternächte, WoO

Hans Huber was a Swiss composer born in Eppenberg-Wöschnau on 28 June 1852, the son of an amateur musician. Hans became a chorister and had a good ability in playing the piano.He entered the Leipzig Conservatory in 1870 and, seven years later, began teaching in Basel seven years later and became finally the director of the Basel conservatory. He wrote eight numbers symphonies and another unnumbered one. He wrote two concertos for violin and cello respectively and four for the piano. His Symphony no 1 Tellsinfonie is derived from the life of the Swiss hero William Tell. The Symphony no 2 is sometimes called the Böcklin after the Swiss symbolist painter (1827-1901). His second Serenade has a programmatic subtitle: Winterträume - winterdreams. Even if all movements have programmatic titles (spinning song, daydream, pastorale), these titles are not absolutely necessary for understanding the work. Finally, this is late romantic orchestral music on a high compositional level.
The Swiss Orchestra under its founder, Lena-Lisa Wüstendörfer, aims to make Swiss works audible and their creators visible and is striving for nothing less than a renaissance of Swiss symphonic music. Composed of first-class instrumentalists of the younger generation, the Swiss Orchestra has been touring Swiss concert halls together with renowned soloists since the 2019/20 season. Trouvailles by Swiss symphonic composers such as Edouard Dupuy, Hans Huber or Johann Carl Eschmann meet highlights by Beethoven or Mozart.
Swiss Orchestra
Lena-Lisa Wüstendörfer, conductor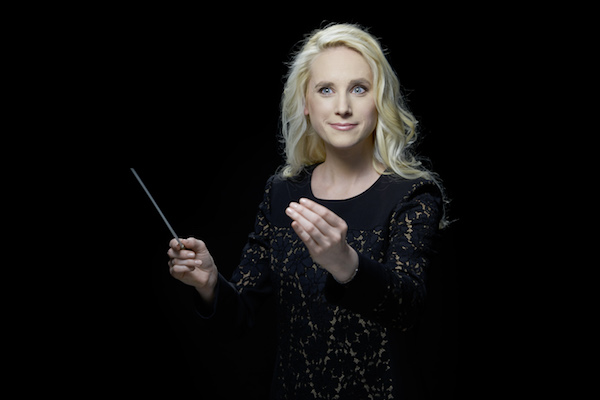 Lena-Lisa Wüstendörfer
«Her enthusiasm is contagious», her «crystal-clear gestures» shape the sound «dynamically and with expressive differentiation» – wherever Lena-Lisa Wüstendörfer conducts, she enthuses audiences and reporters alike with her captivating, finely nuanced style.
Lena-Lisa Wüstendörfer is Music Director of the Swiss Orchestra and Artistic Director of the Bern Bach Choir. In the 2019/20 season Wüstendörfer is on tour with the Swiss Orchestra and the soloists Oliver Schnyder and Heinz Holliger, performs with the Camerata Schweiz and the Capriccio Baroque Orchestra and can be heard with the Bern Bach Choir and the Leipzig Chamber Symphony Orchestra at Leipzig Bach Festival.
As a guest conductor, Lena-Lisa Wüstendörfer is international active. Under her baton have been renowned ensembles such as the Lucerne Symphony Orchestra, Zurich Chamber Orchestra, Thailand Philharmonic Orchestra, Frankfurt Opera and Museum Orchestra, Musikkollegium Winterthur, Pomeranian Philharmonic Bydgoszcz, Camerata Schweiz, Basel Sinfonietta, Sinfonietta Berne, Orchestre Symphonique du Jura, Orchestra of Europe, Capriccio Baroque Orchestra or Zakhar Bron Festival Orchestra.
In addition to her concert performances, Wüstendörfer researches musical interpretation and reception history, focusing in particular on Gustav Mahler and Felix Weingartner. Her publication Maher-Interpretation heute (edition text + kritik 2015) is according to the Neue Zürcher Zeitung (NZZ) one of the most fascinating so far on recent Mahler performance practice. In June 2019 the book Klingender Zeitgeist on Mahler's Fourth Symphony is brought out by the same publisher. She has often been invited as guest lecturer at Basel University. Born in Zurich in 1983, Lena-Lisa Wüstendörfer studied violin and conducting at Basel Conservatory, as well as musicology and economics at Basel University. Her PhD thesis was on Mahler's Fourth Symphony on sound recordings. She deepened her studies with Sylvia Caduff and Sir Roger Norrington and was assistant conductor to Claudio Abbado. She held scholarships from the Swiss Study Foundation, the Deutsche Bank Foundation Academy Opera Today and the Ernst Göhner Foundation.

This album contains no booklet.