---
Sings the John Lennon-Paul McCartney Songbook (Remastered) Keely Smith
Album info
Album including Album cover
I`m sorry!
Dear HIGHRESAUDIO Visitor,
due to territorial constraints and also different releases dates in each country you currently can`t purchase this album. We are updating our release dates twice a week. So, please feel free to check from time-to-time, if the album is available for your country.
We suggest, that you bookmark the album and use our Short List function.
Thank you for your understanding and patience.
Yours sincerely, HIGHRESAUDIO
1

If I Fell

03:04

2

This Girl

02:25

3

Please Please Me

02:49

4

And I Love Him

02:53

5

World Without Love

03:18

6

She Loves You

03:13

7

A Hard Day's Night

03:09

8

Do You Want to Know a Secret?

02:45

9

Can't Buy Me Love

02:18

10

All My Loving

03:05

11

I Want to Hold Your Hand

03:03

12

P.S. I Love You

02:44

Total Runtime

34:46
Info for Sings the John Lennon-Paul McCartney Songbook (Remastered)

Lots of pop vocalists have tackled the vaunted Lennon-McCartney songbook, but this 1964 release from the late, great Keely Smith was the first album by an artist of her ilk devoted to the lads from Liverpool. And perhaps the best one, too…with sparkling arrangements by Ernie Freeman and Benny Carter, and production from Keely's soon-to-be husband Jimmy Bowen, the record alternately seduces and swings, and Keely's voice—with its bluesy phrasing and lilt patented on The Strip—is the perfect instrument to interpret these Fab tunes. But there's more to the story here. Sure, "groups" like The Chipmunks and The Hollyridge Strings released Beatles cover albums in 1964, but a pop singer? Of Keely's stature and pedigree? Not a chance. Keely risked ridicule from both the traditionalist and rock and roll camps by crossing over the great pop music divide to record these songs. Many of her peers were still openly dismissive of the Mop Tops; and the new generation digging the Merseybeat sound were likely to see her as square. It was just another courageous, nervy move in a career full of 'em; and Keely's reward was a smash album in the U.K. For the first-ever reissue of this classic record, we've added liner notes by Steve Hochman along with rare photos. Remastered by Mike Milchner at SonicVision…truly a Fabulous release!
"Avoiding what could have been a cheap cash-in on youth culture and the rising influence of rock on popular music, Keely Smith instead delivered a gorgeously rendered, swinging, and utterly purehearted celebration of the Beatles on 1964's Keely Smith Sings the John Lennon-Paul McCartney Songbook. Deftly eschewing the use of the Beatles name in the album title, Smith instead chose to focus on the songwriting talents of Lennon and McCartney. The result was an album that smartly recontextualized the band's songs within the pantheon of traditional pop and the canon of standards that grew out of the work of the Great American Songbook composers. Separated from the British Invasion hype (and crying fans), the Beatles were the one rock band that both teenagers and their parents could agree upon -- a contemporary rock act who still wrote lyrical love songs with standard AABA forms that didn't sound too far removed from the pop of the the big-band era. At least, that's what Smith would seem to want you to believe here. Working with producer Jimmy Bowen and arrangers Ernie Freeman and Benny Carter, and backed at various times by a big band and string orchestra, Smith dives headlong into the process, soaring with a smile through a bossa nova-tinged take on "If I Fell" and drawing upon mentor Frank Sinatra's laid-back style on her swinging reading of "Please Please Me." Elsewhere, she brings out subtleties in the original material that the Beatles merely hinted at, including turning the first part of "World Without Love" into a slow, dramatic verse like a Broadway intro. Similarly thrilling is hearing how Smith and her collaborators have mapped some of Lennon and McCartney's songs to other contemporaries, including drawing upon Ray Charles' piano-driven soulfulness on "This Girl" and evoking Peggy Lee's smoky, finger-snapping "Fever" on "A Hard Day's Night." Admittedly, not every Beatles song works as well in this context, and cuts like "She Loves You" and "I Want to Hold Your Hand," while pleasant as light period background pop, suffer from schmaltzy string and backing vocal additions, while conversely pointing out the limits of Lennon and McCartney's repeated chorus lyrics. Nonetheless, by unabashedly embracing the Beatles' songs at a time when most of her peers were decrying the state of popular music, Smith managed to deliver an album that both lionized Lennon and McCartney (a fact that put her on the right side of pop history) and retained all of the urbane, swinging musicality she was known for." (Matt Collar, AMG)
Keely Smith, vocals
Produced by Jimmy Bowen
Digitally remastered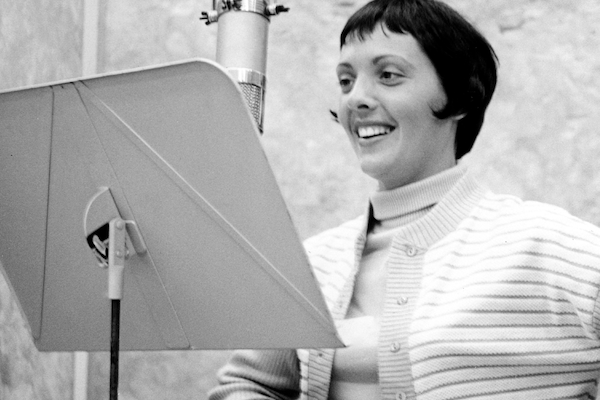 Keely Smith
A fine traditional pop vocalist, Keely Smith was best known as the longtime duet partner of the late singer/trumpeter Louis Prima. However, Smith was also a talented solo performer, on par with the leading female vocalists of the 1950s. With Prima she took the "straight man" role in their raucous, just-this-side-of-parody blends of jazz, jump blues, and Italian pop on records like Las Vegas Prima Style and in their Vegas-oriented shows. They also scored a major success when their 1958 cover of Johnny Mercer and Harold Arlen's "That Old Black Magic" hit the Top 20 and garnered the duo the first ever Grammy Award for Best Performance by a Vocal Group. On her own, Smith recorded a string of well-received albums and scored a hit with "I Wish You Love" in 1957. After divorcing Prima, she signed with Frank Sinatra's Reprise Records and released a series of sophisticated albums featuring musical direction by Nelson Riddle and Ernie Freeman. She also returned to the charts in 1965 with the Top 20 British single "You're Breakin' My Heart." After a period away from the spotlight, during which time she raised her daughters, she made a comeback in the 1980s. Over the next 30 years until her death in 2017, Smith recorded a handful of albums for Concord and performed often.
Born Dorothy Jacqueline Keely in Norfolk, Virginia in 1928, Smith grew up in a family of Cherokee and Irish heritage. As a child, she sang on a radio show (eventually adopting her stepfather's last name as her stage name), and later performed with Saxie Dowell's band at a local naval air station. The singer was only 15 when she first saw Prima perform in New York City. The following summer, Prima played her hometown of Norfolk at the same time he was looking for a new female singer. Smith won the job on a more or less spur-of-the-moment audition, and recorded her first duets with Prima in 1949. Eventually they became romantically involved as well, marrying in 1953 and recording throughout the '50s, though they had their greatest success as one of Las Vegas' most successful stage acts.
When the duo was signed to Capitol, Prima stipulated that Smith get her own recording deal. Her subsequent Capitol albums, including 1957's I Wish You Love, were accomplished readings of popular standards, sometimes swinging mildly, although Smith seemed more comfortable with ballads. She and Prima left Capitol for Dot at the end of the '50s, and in 1961 she divorced him on grounds of extreme mental cruelty.
After divorcing Prima, Smith formed her own Keely Records label and partnered with longtime friend and mentor Frank Sinatra for a handful of impeccably produced efforts. Released under Sinatra's own Reprise imprint, 1963's Little Girl Blue/Little Girl New and its successors showcased Smith's highly resonant vocal style, framing her in swinging arrangements by Nelson Riddle and Ernie Freeman. The Reprise albums proved a boon for the singer, garnering her a Top 20 British hit in 1965 with "You're Breakin' My Heart."
After a nearly ten-year hiatus from the music business spent raising her two daughters, Smith returned to performing. She made a comeback album in 1985 on Fantasy, I'm in Love Again, which featured accompaniment from top West Coast jazzmen Bud Shank and Bill Perkins. What Kind of Fool Am I? followed in 1994.
In the wake of the late-'90s neo-swing revival, Smith recorded several well-regarded albums for Concord, including 2000's Swing, Swing, Swing, 2001's Grammy-nominated Keely Sings Sinatra, and 2002's Keely Swings Basie-Style with Strings. Three years later, she re-created the atmosphere of her classic live Las Vegas act with Prima on Vegas '58 -- Today. In 2012, Smith delivered the standards-centric Sweet and Lovely. A savvy businesswoman, Smith retained the rights to her Reprise masters, which were never issued on disc. In 2016, she partnered with Real Gone Music and issued all five of her mid-'60s Reprise albums, starting with 1964's The Intimate Keely Smith and including the Beatles-themed Keely Smith Sings the John Lennon-Paul McCartney Songbook. Smith passed away on December 16, 2017 of apparent heart failure; she was 89 years old. (Richie Unterberger, AMG)

This album contains no booklet.