---
Album info
Album including Album cover Booklet (PDF)
Astor Piazzolla (1921 - 1992): Aconcagua:

1

Piazzolla: Aconcagua: I. Allegro marcato

07:33

2

Piazzolla: Aconcagua: II. Moderato

08:16

3

Piazzolla: Aconcagua: III. Presto

07:03

Las Cuatro Estaciones Porteñas:

4

Piazzolla: Las Cuatro Estaciones Porteñas: Invierno Porteño. Allegro moderato

06:58

5

Piazzolla: Las Cuatro Estaciones Porteñas: Primavera Porteña. Allegro moderato

05:09

6

Piazzolla: Las Cuatro Estaciones Porteñas: Verano Porteño. Lento

08:58

7

Piazzolla: Las Cuatro Estaciones Porteñas: Otoño Porteño. Fuga. Allegro

05:10

Total Runtime

49:07
Info for Piazzolla: Aconcagua & Las Cuatro Estaciones Porteñas

The accordion is an instrument that is deeply rooted in Lithuanian folk music. Today, the accordion is also recognized as a versatile instrument of classical music, a change in perception that has largely been promoted by Martynas Levickis, one of the most internationally sought-after musicians in his field. With its lightness and melancholy, Astor Piazzolla's music has fascinated the young accordionist from an early age, and so it goes without saying that he is dedicating himself to this exceptional composer in his anniversary year. Together with the Lithuanian National Symphony Orchestra he recorded "Aconcagua" live in concert. For conductor Modestas Pitrenas, Piazzolla's concerto – named posthumously after the highest mountain in the Americas – "conveys the climb to the roof of the earth in all its facets and symbolism: freedom, longing, loneliness, pain, transfiguration, peace." Levickis has a long and close collaboration with the chamber orchestra "Mikroórkestra". Together they present their interpretation of "Las Cuatro Estaciones Portenas," Piazzolla's timeless masterpieces of many styles that capture in music the four seasons in Argentina's capital Buenos Aires.
Martynas Levickis, accordion ("Aconcagua" - Concerto for Bandoneon and Orchestra)
Lithuanian National Symphony Orchestra
Modestas Pitrenas, conductor
Martynas Levickis, accordion (Las Cuatro Estaciones Porteñas)
Mikrookéstra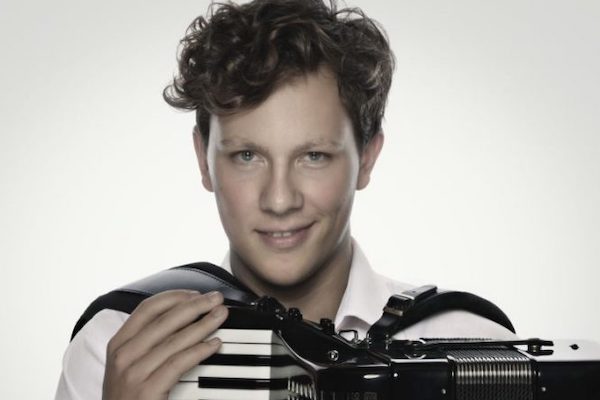 Martynas Levickis
Praised by The Times for his "mastery of an instrument once dismissed as a squeezebox", accordionist Martynas Levickis has captivated audiences and critics alike with his musicality, charisma and dynamic performances. As one of the world's leading exponents of the accordion, his virtuosity and versatility in the classical and contemporary repertoire has transformed the way we listen to the instrument.
Encouraged by his family, at the age of just three Martynas began to teach himself the traditional folk music of his home country, Lithuania. At the age of eight he began to learn formally at the S. Sondeckis School of the Arts in his hometown of Šiauliai, before going on to study with Prof. Owen Murray at the Royal Academy of Music in London, followed by postgraduate studies with Prof. Iñaki Alberdi at Musikene in Spain. Martynas has taken masterclasses with Claudio Jacomucci, Friedrich Lips, Masimiliano Pitocco and Matti Rantenen. He is the recipient of over 30 international awards; in 2010 he won the Coupe Mondiale World Accordion Championships. As the first accordionist signed to the Universal Music Decca Classics label, his eponymous debut album went straight to the top of the UK Official Classical Album Charts.
Martynas is "Preisträger in Residence" of the 2020 Festspiele Mecklenburg-Vorpommern. Due to the 2020 Covid-19 pandemic, several of his 26 concerts as the festival's artist in residence are now rescheduled to take place in 2023, when his residency will be renewed for a second festival edition.
Further highlights of the 2019-2020 season included concerts at the Internationale Stiftung Mozarteum Salzburg, Heidelberger Frühling, Ronnie Scott's Jazz Club London, Schloss Elmau and Dresdner Philharmonie. His trips abroad took him to Norway, the United Kingdom, Germany, Asia, the United States of America and the Baltic States.
In 2015 Martynas Levickis founded his chamber ensemble Mikroorkéstra, which he directs in various projects either as a soloist or conductor, premiering, amongst other things, his own arrangement of Vivaldi's "Four Seasons" for accordion and chamber orchestra. Martynas has enjoyed recent collaborations with Andrés Orozco-Estrada, Anu Tali, Adrian Brendel, Gábor Takács-Nagy, Thomas Gould, Harriet Krijgh, Lizzie Ball, Joanna MacGregor, Avi Avital, David Garrett and SIGNUM saxophone quartet. He has performed at venues including the Royal Albert Hall, St Petersburg Grand Philharmonic Hall, Wigmore Hall, the Auditorio Nacional in Mexico, Seoul Arts Center and at festivals such as, Dresdener Musikfestspiele, Thüringer Bachwochen, MDR Musiksommer, the International Chamber Music Festival Utrecht, Bath, Kissinger Sommer, Edinburgh Jazz Festival, Gaida or the March Music Days.
Over the years, Martynas has appeared with various orchestras including the BBC Concert Orchestra and the City of Birmingham Symphony Orchestra. Concert engagements have included performances with the Frankfurt Radio Symphony Orchestra, the Lithuanian National Symphony, Manchester Camerata, St Christopher Chamber Orchestra. Masterclasses and teaching are other important parts of Martynas' work, and in past years Martynas has led residential courses at Dartington International Summer School and Ruse International March Music Days. In 2014 Martynas founded the annual Composers+ Summer Academy to create and premiere new music for accordion with chamber ensembles. He was also the Artistic Director of Vilnius Accordion Music Week for 6 years.
Martynas Levickis is an Associate of the Royal Academy of Music in recognition of his distinguished contribution to music in his field. He sits on the Advisory Board of the Lithuanian World Arts Council. Martynas plays a Pigini NÒVA classical accordion, thanks to the generous support of The Lady R Foundation.

Booklet for Piazzolla: Aconcagua & Las Cuatro Estaciones Porteñas