---
Album info
Album including Album cover
1

Cicada

06:58

2

Bat

06:14

3

Walkingstick

04:05

4

Fox

04:51

5

Grizzly Bear

05:39

6

Rattlesnake

09:43

7

Wolf

07:42

8

Hedgehog

04:24

9

Toad

07:40

10

Lynx

04:37

11

Scorpion

04:34

12

Firefly

06:21

13

Owl

06:08

14

Sea Turtle

08:23

Total Runtime

01:27:19
Info for Nocturnal Animals

Pianist-composer Yelena Eckemoff adds another link to her chain of thoughtful concept albums with Nocturnal Animals, which her own L&H Production imprint will release on January 24. True to its title, the double album features 14 musical impressions of the creatures that rule the night. The pieces are brought to life by a quartet that places Eckemoff alongside bassist Arild Andersen and drummers Jon Christensen and Thomas Strønen.
Eckemoff is fond of creating these sorts of sonic portrait galleries. Prior albums have explored such disparate subjects as the desert, the biblical psalms, and colors. Yet never before has she taken on such an array of wild beasts. i>Nocturnal Animalsteems with life: in the music, of course, but also in the free-verse poems that Eckemoff has written as supplements to each of the album s compositions.
No one knows how and what animals think, she says. But in my poetic writing about them I perceive each one as a being with an intriguing personality, and they all think and act similarly to how people would in certain situations.
That personification is manifest in the gripping suspense ofBat,the sly, stealthy swing of Fox,the roaming, glimmering Firefly, and the graceful, determined Sea Turtle.A number of pieces take on surprising dimensions that depart from our received wisdom about these animals. Walkingstick, has a supple, delicate beauty that offsets its strange syncopations; Toadis stately and majestic; and Scorpionhas tinges of warmth and empathy enfolded into its moody, mysterious structures.
In short, Nocturnal Animalsconveys a tremendous amount of nuance, thanks for which go to the musicians who help Eckemoff to execute her vision. Andersen, with whom the pianist has the longest collaborative relationship, acts largely as a second or counter-melodist for her, while the dual drummers draw rhythmic designs around each of them (and each other). Jon is so unique, so insanely original; he doesn t play patterns or beats, he plays around the beat, against the beat, building layers, Eckemoff explains. You can hear how differently they play and at the same time marvel at their remarkable compatibility and interplay.
Nocturnal Animals is the pianist-composer s 15th release in ten years, demonstrating her extraordinary (and seemingly never-ending) fount of inspiration. There are so many ideas going through my head at any given time, Eckemoff says. I don t know what I ll explore next.
Yelena Eckemoff, piano
Arild Andersen, double bass
Jon Christensen, drums, percussion
Thomas Stronen, drums, percussion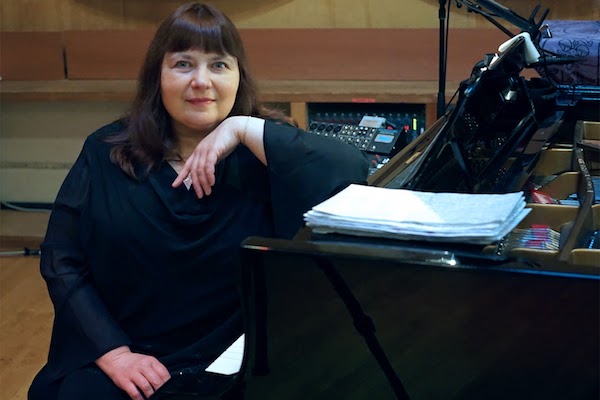 Yelena Eckemoff
was born in Moscow, Russia, in the Soviet Union. Her parents noticed that she had musical talent when she started to play piano by ear at the age of four. Yelena's mother, Olga, a professional pianist, became her first piano teacher. At the age of seven Yelena was accepted into an elite Gnessins School for musically gifted children where, in addition to common school subjects, she received extensive training in piano, music theory, music literature, solfeggio, harmony, analysis of musical forms, conducting, composing, and other musical subjects. She was fortunate to study piano with Anna Pavlovna Kantor, who also trained one of today's most celebrated pianists, Evgeny Kissin. Later Yelena studied piano with Galina Nikolaevna Egiazarova at the Moscow State Conservatory. Upon graduation with Master's Degree in piano performance and pedagogy, she worked as a piano teacher in one of Moscow music schools, gave solo concerts, attended courses at the Moscow Jazz Studio, played in an experimental jazz-rock band, and composed a lot of instrumental and vocal music.
In 1991, with her husband, Yelena emigrated to the United States. While assimilating and surviving in a new country and raising children, she had to put her musical career on hold. During these years Yelena experimented with synthesizer and MIDI sequencer in her little home studio, then founded an ensemble of local musicians. She self-released albums in various genres including classical, vocal, folk, Christian, and her original music.

This album contains no booklet.